Spider plants, apple benefits, secrets of the Harvest Moon
This is an archived issue of our Almanac.com Companion email newsletter.
Daily Newsletter for Thursday, September 12, 2019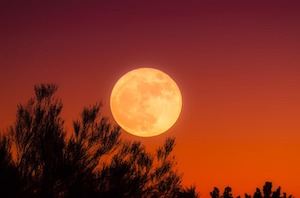 A harvest Moon!
And on the mats—
Shadows of pine boughs.
–Takarai Kikaku (1661–1707)
Spider Plants
Spider Plants
Spider plants produce a rosette of long, thin, arched foliage that is solid green or variegated with white. These easy-to-grow houseplants look especially nice in a hanging basket and were a favorite in Victorian-era households. Here's how to grow spider plants in your home!
Fall Tree Planting
Tree-Planting Tips for Fall
From a tree's point of view, fall is an excellent planting time—even better than spring. Many nurseries dig bare-root plants in the fall, sell some, and store the remainder through winter. Such plants are fresher in the fall, and the selection is better. Here's everything you need to know about choosing and planting a tree!
The 2020 Old Farmer's Almanac Engagement Calendar
A highly useful daily planner full of humor and useful advice. It's an indispensable tool for managing your life and keeping yourself organized. Includes plenty of room for jotting down appointments and notes.
Secrets of the Harvest Moon
Why The Harvest Moon Appears to Shine On—For Days!
Let's set the record straight about the Harvest Moon . It's not bigger than other full Moons. It's not brighter. So why is it special? That's the question for October 1 this year, and through the weekend!  
The 2020 Old Farmer's Almanac Everyday Calendar
Nicely illustrated page-a-day desk calendar that makes a great stocking stuffer! Start each day with a tidbit of Almanac fun: weather wisdom, quirky historical facts, useful hints, and time-tested proverbs.