Friday the 13th Harvest Moon, lucky or unlucky?, healing calendula
This is an archived issue of our Almanac.com Companion email newsletter.
Daily Newsletter for Friday, September 13, 2019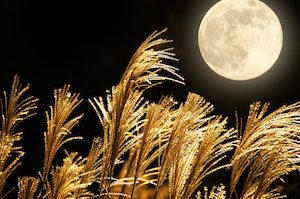 Shine on, shine on harvest moon
Up in the sky,
I ain't had no lovin'
Since January, February, June or July
Snow time ain't no time to stay
Outdoors and spoon,
So shine on, shine on harvest moon,
For me and my gal.
–Nora Bayes and Jack Norworth (1903)
Friday the 13th Harvest Moon
What Day Is the Harvest Moon in October?
In 2020, October 1 brings the most famous Full Moon of the year—the Harvest Moon. It's a great time to learn fascinating, little-known facts about our big ol' Moon!
How to Save Seeds
How to Save Seeds From Beans, Peppers, Onions, and More!
Saving seeds from your best plants can result in vegetables that are perfectly suited to your garden's growing conditions. This means stronger, healthier plants and bigger harvests (at less cost). We'll show you how easy it is to save seeds from vegetables such as beans, lettuce, onions, and ...
The 2020 Old Farmer's Almanac Engagement Calendar
A highly useful daily planner full of humor and useful advice. It's an indispensable tool for managing your life and keeping yourself organized. Includes plenty of room for jotting down appointments and notes.
Friday the 13th Facts and Lore
Why Is Friday the 13th Unlucky? | Origin of Friday the 13th
The next Friday the 13th is Friday, November 13, 2020. Why is this day often associated with bad luck? What is the meaning of Friday the 13th and how did this superstition even begin? Find out—and enjoy fun freaky facts!
Full Moon and Good Luck
Full Moon and Good Luck
Can the Moon change your luck? According to Moon lore, in many cases the full Moon brings good luck. But not always! Read on about full Moon superstitions and folklore. 
The 2020 Old Farmer's Almanac Everyday Calendar
Nicely illustrated page-a-day desk calendar that makes a great stocking stuffer! Start each day with a tidbit of Almanac fun: weather wisdom, quirky historical facts, useful hints, and time-tested proverbs.