Improve your soil in the fall, apple cider vinegar drink, persimmon bread
This is an archived issue of our Almanac.com Companion email newsletter.
Daily Newsletter for Monday, September 16, 2019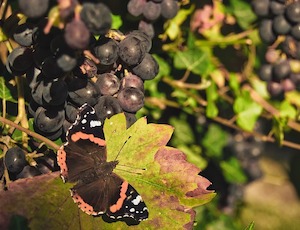 From dewy lanes at morning

the grapes' sweet odors rise;

At noon the roads all flutter

With yellow butterflies.
–Helen Maria Hunt Jackson (1830–85)
Improving Soil in the Fall
Preparing Soil for Planting
Soil preparation is EVERYTHING when it comes to growing plants. You can improve your soil at any time of year, but the end of the growing season is an especially good time. Here are tips on how to identify your soil type and how to enrich your soil before you plant in the spring.
Fall's Just Around the Corner
Autumnal Equinox 2020: The First Day of Fall
In 2020, the autumnal equinox—also called the September equinox or fall equinox—arrives on Tuesday, September 22. Fall begins in the Northern Hemisphere and spring begins in the Southern Hemisphere. Why do we mark the equinox? Here's all you need to know!
Apple Cider Vinegar Drink
Apple Cider Vinegar Drink Recipe
My mom grew up on a big Vermont dairy farm, and every summer, they would haul endless gallons of something called switchel out to the field during haying season. Mom's recipe for the homemade beverage was simple: apple cider vinegar sweetened with maple syrup (both made on the farm), diluted with cold spring water. Here's the recipe.
Persimmon Bread
Persimmon Bread
Every tried Persimmon Bread? These bright orange fruits are harvested in September and October. The sweet jelly-like bulb is perfect for baking in breads and puddings.
The 2020 Old Farmer's Almanac Everyday Calendar
Nicely illustrated page-a-day desk calendar that makes a great stocking stuffer! Start each day with a tidbit of Almanac fun: weather wisdom, quirky historical facts, useful hints, and time-tested proverbs.