Marigolds, mulled apple cider, how to compost
This is an archived issue of our Almanac.com Companion email newsletter.
Daily Newsletter for Friday, October 4, 2019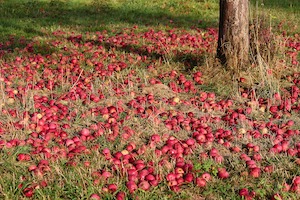 When on the ground red apples lie
In piles like jewels shining,
And redder still on old stone walls
Are leaves of woodbine twining.
–Helen Hunt Jackson (1830–85)
Friday, October 4, 2019
277th day of the year
Liev Schreiber (actor) was born on this day in 1967.
Gordon Cooper (astronaut who circled the globe 22 times in 34 hours and 20 minutes and became the first astronaut in a space flight of more than 24 hours. He was also the first astronaut to sleep in space, and he successfully carried out a beacon ... died on this day in 2004.