Best firewood to burn, nuts for health and weight loss, getting good soil
This is an archived issue of our Almanac.com Companion email newsletter.
Daily Newsletter for Wednesday, November 6, 2019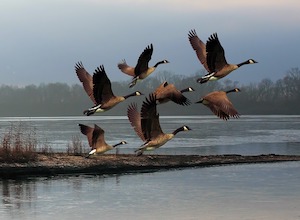 The geese honked overhead.
I ran to catch the skein
To watch them as they fled
In a long wavering line.
–May Sarton (1912–95)
Wednesday, November 6, 2019
310th day of the year
Maria Shriver (newscaster) was born on this day in 1955.
Clarence "Ace" Parker (professional football player) died on this day in 2013.