Homemade bird food, Christmas forecast, Venus meets Saturn
This is an archived issue of our Almanac.com Companion email newsletter.
Daily Newsletter for Sunday, December 8, 2019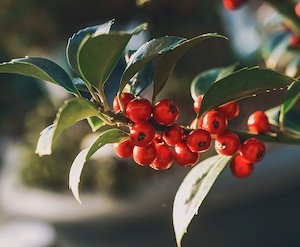 The holly! the holly! oh, twine it with bay—
Come give the holly a song;
For it helps to drive stern winter away,
With his garment so sombre and long.
–Eliza Cook (1818–89)
Sunday, December 8, 2019
342nd day of the year
Kim Basinger (actress) was born on this day in 1953.
Caroll Spinney (puppeteer; best known for Big Bird and Oscar the Grouch) died on this day in 2019.