Happy Chinese New Year!, longevity noodles, good luck superstitions
This is an archived issue of our Almanac.com Companion email newsletter.
Daily Newsletter for Friday, January 24, 2020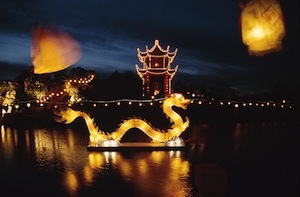 The dragon is in the street dancing beneath windows
pasted with colored squares, past the man
who leans into the phone booth's red pagoda, past
crates of doves and roosters veiled
until dawn.
–Lynda Hull (1954–94)
Friday, January 24, 2020
24th day of the year
Mary Lou Retton (gymnast) was born on this day in 1968.
Chris Penn (actor) died on this day in 2006.