Saturn Full Moon conjunction, no-cook recipes, strawberries
This is an archived issue of our Almanac.com Companion email newsletter.
Daily Newsletter for Wednesday, June 27, 2018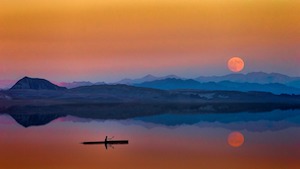 Raised are the dripping oars,
Silent the boat! the lake,
Lovely and soft as a dream,
Swims in the sheen of the moon.
–Matthew Arnold (1822-88)
Wednesday, June 27, 2018
178th day of the year
J. J. Abrams (television writer & producer) was born on this day in 1966.
Michael Bond (children's writer) died on this day in 2017.