Canning tomatoes, late blight, sweet potato recipes
This is an archived issue of our Almanac.com Companion email newsletter.
Daily Newsletter for Wednesday, August 8, 2018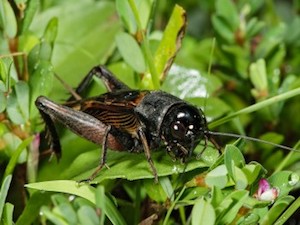 And from the hot field's farthest edge
The cricket's soft refrain
With mellow accent tells the tale
That August's here again.
–Helen Maria Winslow (1851–1938)
Canning Tomatoes
How to Can Tomatoes at Home
Here's how to can tomatoes (whole peeled tomatoes) using easy water-bath canning. Enjoy that garden-fresh tomato taste all year long—to make fresh spaghetti sauce, lasagna, chili, soups, and stews all year long. Anyone can do this! Here's how to can your tomatoes—using just tomatoes and lemon juice!
10 Sweet Potato Recipes
Best Sweet Potato Recipes
Here are some delicious sweet potato recipes, including sweet potato fries, biscuits, casseroles, and desserts. Sweet potatoes are versatile, nutritious, and low in calories, making for the perfect addition to any meal.
How Insects Predict Weather
How Insects Predict the Weather
Next time you see an insect, spider, or other "creepy-crawly," check out what it's doing! It could let you know something about the upcoming weather. Check out our weather proverbs and folklore about insects and other creatures.
Controlling Potato Blight
5 Ways to Control Potato Blight
Potato blight first shows itself as brownish-black spots on leaves, but before long the potato foliage can completely collapse and the potatoes themselves will rot.
2019 MOON WALL CALENDAR
Want to enjoy the beautiful Moon year-round? Check out our 2019 Moon Wall Calendar that is loaded with amazing lunar lore, facts, and photos!   
5 Simple Hair Treatments
5 Natural Treatments for Healthy Hair
To care for your hair, forget those so-called miracle salon products. Here are 10 common-sense hair care tips plus five "old-fashioned" treatments for healthy hair, proven through generations. Many ingredients are right in your pantry!
The 2020 Old Farmer's Almanac Everyday Calendar
Nicely illustrated page-a-day desk calendar that makes a great stocking stuffer! Start each day with a tidbit of Almanac fun: weather wisdom, quirky historical facts, useful hints, and time-tested proverbs.