Four planets line up, pickling, stuffed tomatoes
This is an archived issue of our Almanac.com Companion email newsletter.
Daily Newsletter for Friday, August 17, 2018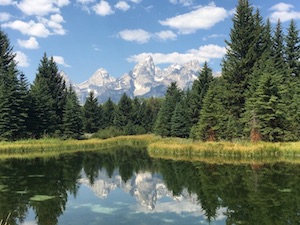 "Now I see the secret of the making of the best persons: It is to grow in the open air and to eat and sleep with the earth."
–Walt Whitman (1819–92)
Four Planets Line Up
A Rainbow of Planets: Four Planets in a Line!
Mars remains blazingly brilliant in the night sky. The real draw now is that it's part of a rare display above our heads. In mid-August, 2018, four planets and two famous stars have formed a rainbow of gemstones. Look for Venus, Jupiter, Saturn, and Mars in a line!
Surviving Floods
How to Survive a Flood: Flood Safety Tips
Are you in a flood-susceptible area? Flooding is the common natural disaster in the United States—usually caused by heavy, sudden rainfall. Quickly review these flood safety guidelines—with tips BEFORE, DURING, and AFTER a flood to increase your chances of survival and protect your property.
Starting a Simple School Garden
How to Start a School Garden
When kids are back in school, it's the perfect time to plan a school garden. Children who grow vegetables, eat vegetables. Here's our advice on how to start a school garden—plus, a list of great garden plants.
2019 MOON WALL CALENDAR
Want to enjoy the beautiful Moon year-round? Check out our 2019 Moon Wall Calendar that is loaded with amazing lunar lore, facts, and photos!   
Pickling Tips and Recipes
Pickling Tips and Recipes
Learn how to pickle! See our best pickling tips—plus, great pickling recipes from dill pickles to pickled peppers! Preserve the bounty of the season's harvest.
Spinach-Stuffed Tomatoes
Spinach-Stuffed Tomatoes
When tomatoes are ripening fast and furious, stuffing them with a delicious spinach filling makes for great eating.
Farm Sweet Farm Jumbo Coffee Mugs
Large, double-sided, dishwasher-safe mugs. Each mug includes a generously-sized hole that allows coffee to pour out when the mug is tilted.