Four planets line up, pickling, stuffed tomatoes
This is an archived issue of our Almanac.com Companion email newsletter.
Daily Newsletter for Friday, August 17, 2018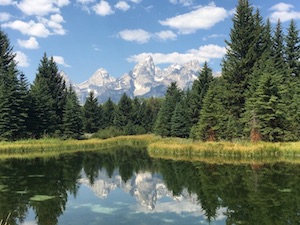 "Now I see the secret of the making of the best persons: It is to grow in the open air and to eat and sleep with the earth."
–Walt Whitman (1819–92)
Four Planets Line Up
A Rainbow of Planets: Four Planets in a Line!
Mars remains blazingly brilliant in the night sky. The real draw now is that it's part of a rare display above our heads. In mid-August, 2018, four planets and two famous stars have formed a rainbow of gemstones. Look for Venus, Jupiter, Saturn, and Mars in a line!
Surviving Floods
How to Survive a Flood: Flood Safety Tips
Are you in a flood-susceptible area? Flooding is the common natural disaster in the United States—usually caused by heavy, sudden rainfall. Quickly review these flood safety guidelines—with tips BEFORE, DURING, and AFTER a flood to increase your chances of survival and protect your...
2019 MOON WALL CALENDAR
Want to enjoy the beautiful Moon year-round? Check out our 2019 Moon Wall Calendar that is loaded with amazing lunar lore, facts, and photos!   
Pickling Tips and Recipes
How to Pickle: Step-by-Step Pickling Guide
Mmmm… Ready to make homemade pickles? Just follow our step-by-step pickling guide for beginners, and you'll be on your way. Pickling is a great way to store extra vegetables, but pickling isn't just for cucumbers. You can pickle peppers, onions, tomatoes, carrots, watermelon, peaches—lots of...
Farm Sweet Farm Jumbo Coffee Mugs
Large, double-sided, dishwasher-safe mugs. Each mug includes a generously-sized hole that allows coffee to pour out when the mug is tilted.