Woolly worms, Grandparents Day, 3 scrumptious breakfast recipes
This is an archived issue of our Almanac.com Companion email newsletter.
Daily Newsletter for Friday, September 7, 2018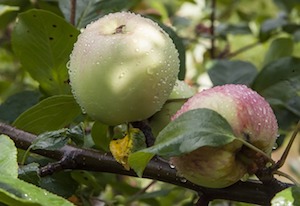 O sweet September rain!
I hear it fall upon the garden beds,
Freshening the blossoms which begin to wane.
–Mortimer Collins (1827–76)
Woolly Worm Weather Predictors
Woolly Bear Caterpillars and Weather Prediction
The woolly bear caterpillar—also called woolly worm or fuzzy worm—has the reputation of being able to forecast the coming winter weather. Whether this is fact or folklore, learn more about this legendary caterpillar and how to "read" the worm!
How to Compost
The Perfect Compost Recipe | How to Get Your Compost Heap Cooking!
Here's how to make your own compost—the very best food that you can give to your plants. Making really great compost requires the right mix of ingredients. This video and article provides instructions on how to mix greens and browns with air and moisture to make better compost and to make composting faster.
Animal Track Trivets
Functional and decorative, our trivet features the footprints of moose, deer, bear, wolf, and cougar. Trivet measures almost 8 inches in diameter and is laser-cut from high-quality birch plywood. 
How to Store Veggies
How to Store Vegetables
 Although most houses these days are not equipped with root cellars, you can probably modify some space in your cellar or garage for storing vegetables.
Grandparents Day on Sunday
Grandparents Day 2020
Grandparents Day is always celebrated on the first Sunday after Labor Day. Take the time to honor your grandparents with these ideas!
The 2020 Old Farmer's Almanac Everyday Calendar
Nicely illustrated page-a-day desk calendar that makes a great stocking stuffer! Start each day with a tidbit of Almanac fun: weather wisdom, quirky historical facts, useful hints, and time-tested proverbs.
3 Breakfast Recipes
3 Scrumptious Breakfast Recipes
On weekends, take your time and enjoy some breakfast goodness. Whether French toast, omelets, or waffles, these are a nice change from cold cereal.
Healing Stone Wind Chimes
Enjoy the soothing sounds of wind chimes precision-tuned to complement the natural properties of their gemstones. Choose from amethyst, jade, or turquoise.