Best firewood, chicken and dumplings, festive wreath
This is an archived issue of our Almanac.com Companion email newsletter.
Daily Newsletter for Thursday, October 11, 2018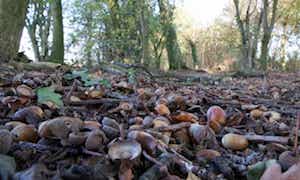 A good October and a good blast,
To blow the hog acorn and mast.

–Proverb
Homemade Nut Wreath
How to Make a Fall Nut Wreath
This autumn, make a natural nut wreath for your front door. Fall is nut season (seen any squirrels?) and you can showcase the bounty with a festive nut wreath. Use any hard-shelled nuts, including acorns from your own backyard!
Best Firewood
Best Firewood: Heat Values and Wood-Burning Tips
Do you use firewood to heat your home? Here is a list of the best types of firewood to burn—sorted by high, medium, and low heat value—as well as a few important wood-burning tips.
A Glut of Apples?
How to Store Apples Over Winter
Fall brings an abundance of juicy apples. But what to do with them all? See our short video on how to store apples safely to last all winter, how to freeze apples, and how to make chewy apple rings and fresh homemade apple juice!
Bath Bomb Sets
Creates a luxurious bath or memorable gift! Choose from 4 relaxing scents.