Why so tired?, plant tulips now, epic bird migrations
This is an archived issue of our Almanac.com Companion email newsletter.
Daily Newsletter for Tuesday, October 16, 2018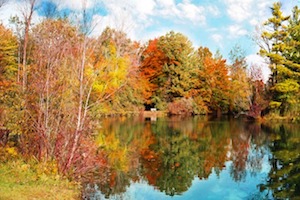 "I'm so glad I live in a world where there are Octobers."
–L.M. Montgomery (1874–1942)
Epic Bird Migration
The Epic Migration of the Red Knot
Although many birds (and humans!) winter in warmer climates, the bird that should win the most "frequent flyer" points is certainly the Red Knot. Discover more about this bird's truly epic annual migration—and why this once-numerous shorebird is now threatened.
The Almanac Garden Hod
Harvest and wash fruit and vegetables easily. Plus, enjoy hundreds of other uses! Each hod has the Almanac Sun logo burned into one side with a fire-heated branding iron.
Toffee Popcorn!
Toffee Popcorn recipe
Anytime is a good time to make this sinfully delicious Toffee Popcorn. It's extremely easy to make and a great snack for the whole family.
Easy Beef and Noodle Recipe
Thai Beef and Noodles
Skip the take-out and liven up your weekly dinner menus with this easy recipe for Thai Beef and Noodles. This spicy dish is a great way to use up leftover steak.
Why so Tired? Causes of Fatigue
Why Am I So Tired?
Do you often feel fatigued during the day for seemingly no reason at all? Here are some of the most common causes of fatigue—and how to overcome them!