Insomnia and sleeping better, wedding weather, apple butter
This is an archived issue of our Almanac.com Companion email newsletter.
Daily Newsletter for Thursday, October 18, 2018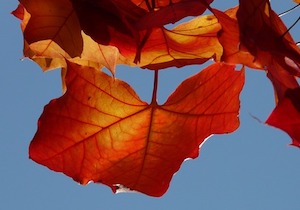 'Tis all a myth that Autumn grieves,
For, watch the rain among the leaves;
With silver fingers dimly seen
It makes each leaf a tambourine.
–Samuel Minturn Peck (1854–1938)
Thursday, October 18, 2018
291st day of the year
Erin Moran (actress) was born on this day in 1960.
Dee Dee Warwick (soul singer) died on this day in 2008.