Insomnia and sleeping better, wedding weather, apple butter
This is an archived issue of our Almanac.com Companion email newsletter.
Daily Newsletter for Thursday, October 18, 2018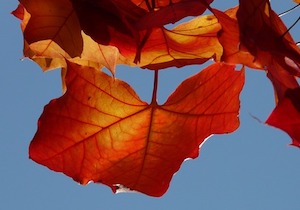 'Tis all a myth that Autumn grieves,
For, watch the rain among the leaves;
With silver fingers dimly seen
It makes each leaf a tambourine.
–Samuel Minturn Peck (1854–1938)
How to Sleep Better
How to Sleep Better and Stop Snoring
If you are suffering from insomnia or sleep deprivation, simply can't sleep, or are snoring, you might benefit from these natural sleep aids, which might help you sleep better.
Ever Make Cornhusk Dolls?
Seasonal Crafts: Cornhusk Doll
In the Colonial Era, people painted faces on cornhusk dolls and made them into toys. Here's how to make your own!
Predict Wedding Weather
Wedding Weather
Wondering what the weather will be like for your wedding day (or any event day)? See our weather prediction tools—plus, learn all about wedding traditions and old-fashioned customs!
The 2020 Old Farmer's Almanac Everyday Calendar
Nicely illustrated page-a-day desk calendar that makes a great stocking stuffer! Start each day with a tidbit of Almanac fun: weather wisdom, quirky historical facts, useful hints, and time-tested proverbs.
Pumpkin Spice Mix
Pumpkin Spice Mix Recipe
This homemade pumpkin spice recipe takes just minutes to mix up—with several ingredients that you may already have in your pantry! Then add this fragrant mix to pies, pancakes, roasted fall veggies, lattes, oatmeal—and even your carved pumpkin!
The Gift of Gardening
The Gift of Gardening is a lovely illustrated book filled with inspirational quotes and interesting facts harvested from The Old Farmer's Almanac. It is perfect for the garden enthusiast. Includes a space to personalize the book with a "To" and "From" section on the first page.
Apple Butter and More Apple Recipes
Apple Recipes: Our Favorites for Fall
Enjoy some of our favorite apple recipes, including a delicious apple pie recipe, apple butter, apple puffed pancakes, apples and pork, and more.
Almanac Field to Fork Cookbook
A collection of more than 120 mouthwatering recipes from The Old Farmer's Almanac, plus kitchen tips and food facts and folklore.