Pantry moths, birds at night, Halloween fudge, cider orchard
This is an archived issue of our Almanac.com Companion email newsletter.
Daily Newsletter for Tuesday, October 23, 2018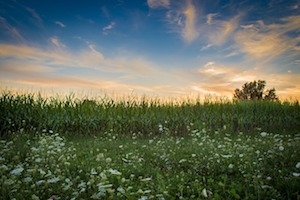 One wading a Fall meadow finds on all sides
The Queen Anne's Lace lying like lilies
On water; it glides
So from the walker, it turns
Dry grass to a lake, as the slightest shade of you
Valleys my mind in fabulous blue Lucernes.
–Richard Wilbur (1921–2017)
How Birds Navigate at Night
How Birds Navigate the Night Sky
How do birds know where to migrate to without getting lost? How do they navigate the dark night sky? Read on to discover the secrets of bird migration!
SPONSORED
Superior eye protection
Melanin-infused sun lenses by ESP Eyewear offer you unrivaled defense against the sun's harmful rays. They cut glare drastically, reducing eye fatigue. while increasing visual clarity and maintaining color balance.
Got Pantry Moths and Worms?
How to Get Rid of Pantry Moths and Worms
You open a bag of whole wheat flour, a box of cereal, or a bag of dog food only to find little worms, moths, or even some webs. Ew! Here's how to get rid of these pantry pests.
Irish Potato Pie
Irish Potato Pie
This recipe, with slight adjustments, was brought over "on the boat" by the cook's great-great-aunt in the 1800s.
Sun Face Kinetic Wind Stake
Bring dramatic excitement to your garden with this extra-large kinetic wind stake featuring a 32-inch-wide Sun fan. Beautifully hand-painted metal Sun rays dazzle as the double-blade design spins in opposite directions, creating a mesmerizing effect. Video of the wind stake in action is available.
Real Halloween Fudge
Halloween Fudge
Kids from miles around appear at our neighbor's house on Halloween, looking for this treat that they've come to expect. 
Wooden Wing Bookmarks
Made in Vermont from a very thin maple veneer that won't damage book bindings. Choose from bald eagles, barred owls, great blue herons, ospreys, peregrine falcons, snowy owls, cardinals, eastern bluebirds, and hummingbirds.