Pantry moths, birds at night, Halloween fudge, cider orchard
This is an archived issue of our Almanac.com Companion email newsletter.
Daily Newsletter for Tuesday, October 23, 2018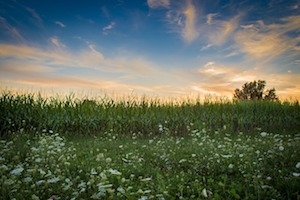 One wading a Fall meadow finds on all sides
The Queen Anne's Lace lying like lilies
On water; it glides
So from the walker, it turns
Dry grass to a lake, as the slightest shade of you
Valleys my mind in fabulous blue Lucernes.
–Richard Wilbur (1921–2017)
SPONSORED
Superior eye protection
Melanin-infused sun lenses by ESP Eyewear offer you unrivaled defense against the sun's harmful rays. They cut glare drastically, reducing eye fatigue. while increasing visual clarity and maintaining color balance.
Best Apples for Cider
Starting an Apple Cider Orchard
The apple harvest is in full swing, and every year we are blessed with more apples than we can eat. I make lots of applesauce and apple crisp and freeze bags of peeled and spiced apples. This winter they will be ready to plunk into a pie crust and bake. But there is one thing I have yet to make at ...
Sun Face Kinetic Wind Stake
Bring dramatic excitement to your garden with this extra-large kinetic wind stake featuring a 32-inch-wide Sun fan. Beautifully hand-painted metal Sun rays dazzle as the double-blade design spins in opposite directions, creating a mesmerizing effect. Video of the wind stake in action is available.
Wooden Wing Bookmarks
Made in Vermont from a very thin maple veneer that won't damage book bindings. Choose from bald eagles, barred owls, great blue herons, ospreys, peregrine falcons, snowy owls, cardinals, eastern bluebirds, and hummingbirds.