Indian summer, baking soda magic, how to make sausage
This is an archived issue of our Almanac.com Companion email newsletter.
Daily Newsletter for Monday, November 12, 2018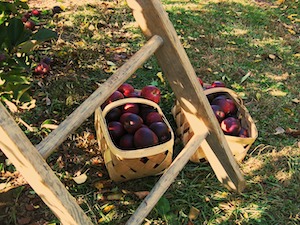 My long two-pointed ladder's sticking through a tree
Toward heaven still,
And there's a barrel that I didn't fill
Beside it, and there may be two or three
Apples I didn't pick upon some bough.
But I am done with apple-picking now.
–Robert Frost (1874–1963)
Indian Summer
Indian Summer: What, Why, and When?
In the fall, it seems that almost any warm day is referred to by most people as an "Indian summer." And while their error is certainly not of the world-shaking variety, they are, for the most part, mistaken. Find out what a real Indian summer is!
Wooden Wing Bookmarks
Made in Vermont from a very thin maple veneer that won't damage book bindings. Choose from bald eagles, barred owls, great blue herons, ospreys, peregrine falcons, snowy owls, cardinals, eastern bluebirds, and hummingbirds.
Indian Summer Applesauce
Indian Summer Applesauce
Our Indian Summer Applesauce recipe is a reader favorite. Combine apples and purple plums for wonderful flavor and beautiful color!
Cranberry Dream Pie
Cranberry Dream Pie
This icy-cold Cranberry Dream Pie is sure to be a hit at any table. Made ahead of time and waiting in the freezer, it's like having an ace up your sleeve.
Support Your Local Farmers Tote Bag
This sturdy cotton canvas bag features The Old Farmer's Almanac 1792 logo on one side and the message "Support Your Local Farmers" on the other. Made in the USA. 
Baking Soda Magic
The Best Uses for Baking Soda
Baking soda is amazing! This versatile substance can be used to remove stains, keep your sneakers smelling fresh, and even get rid of your sweet tooth. Here are some of the best uses for baking soda.