Who was St. Nick? sinterklaas, why go to Mars?
This is an archived issue of our Almanac.com Companion email newsletter.
Daily Newsletter for Wednesday, December 5, 2018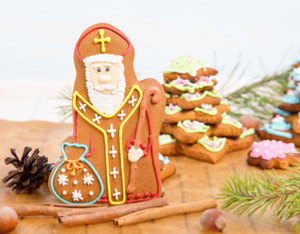 Welcome, friend! St. Nicholas, welcome!
Welcome to this merry band!
Happy children greet thee, welcome!
Thou art gladdening all the land.
–Mary Mapes Dodge (1831–1905)
Who was St. Nick?
St. Nicholas Day 2019
Was Saint Nicholas a real person? Is he the true Santa Claus and Father Christmas? Find out about the history of St. Nicholas Day as well as  (leave out those shoes!).
SPONSORED
Are you looking for the perfect holiday gift?!
Your search should seriously end with Happy Gardens! Their products are unique and they are individually handcrafted! This isn't your made in China cheap product! Check out our website! We have the cutest stuff for the garden or bird lover in your family! Happy Gardens is offering a Special 20% off for all of our Almanac readers! Use promo code: Almanac20 at checkout!
Why Go to Mars?
Why Go to Mars? Water, Life, and Exploration
Mars is still brilliant at dinnertime—just as the latest InSight probe has begun sending us revelations from its surface. At this time of year, Mars is one of the sky's brightest objects between 6:00 and 8:00 PM. Simply look left of where the sun sets for that brilliant...
Sinterklaas Cookies
Spicy Sinterklaas Cookies (Speculaas)
Bake a special treat for St. Nicholas Day this year. These yummy, crunchy cookies leave a delicious spice taste in your mouth, with hints of orange.
Wooden Wing Bookmarks
Made in Vermont from a very thin maple veneer that won't damage book bindings. Choose from bald eagles, barred owls, great blue herons, ospreys, peregrine falcons, snowy owls, cardinals, eastern bluebirds, and hummingbirds.
Living Happily and Healthily
Down Home Tips for Health and Happiness
Most Americans equate "health" with professional health care, especially now, but I'd go so far as to say that self-care and family-based caregiving are the foundations of both good health and happiness.