Geminids tonight!, Christmas dinner ideas, true shortbread
This is an archived issue of our Almanac.com Companion email newsletter.
Daily Newsletter for Thursday, December 13, 2018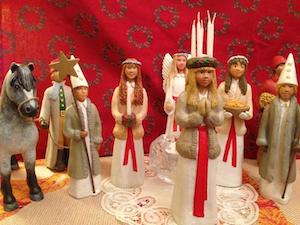 'Tis the year's midnight, and it is the day's,
Lucy's, who scarce seven hours herself unmasks;
The sun is spent, and now his flasks
Send forth light squibs, no constant rays . . .
–John Donne (1572–1631)
Geminids Tonight! Bob Reports.
Geminids 2019: How to See the Geminid Meteor Shower December 13
The most active meteor shower of the year peaks the night of Friday, December 13. These are the Geminids, the sky's "Old Faithful." Their trustworthy, one‑a‑minute frequency has created reliable December sparklers for the past century.
Landscaping in Winter
Winter Landscaping
You might not think about landscaping in winter, but your yard can be just as beautiful in the winter as in the spring.
Long-lasting Cyclamens
Cyclamens: A Christmas Houseplant
Cyclamens (Cyclamen persicum) are attractive, easy-care houseplants that will bloom continuously throughout the winter months. They are a unique alternative to the traditional holiday poinsettia.
Crossbody Purses for Cell Phones by Chala
Top-seller! Available in different nature-inspired designs! Perfect size for carrying most cell phones, cash, ID, and a few credit cards. Very nicely made and features adjustable straps.
Christmas Dinner Ideas
Christmas Dinner Recipes
Our Christmas Dinner Recipes collection has been updated for 2019. We've covered all the classic mains—Christmas Glazed Ham, Prime Rib Roast and Yorkshire Pudding, and Roasted Turkey.  Plus, don't forget about the delicious sides from Yorkshire Pudding to Roasted Sprouts. 
Scottish Shortbread
Shortbread Recipe
A great shortbread cookie has a mouthwateringly, buttery taste and a crumbly texture.  Homemade is far better than storebought with real butter flavor and a more tender and