10 veggies to grow from seed, bird feeders, Moon names
This is an archived issue of our Almanac.com Companion email newsletter.
Daily Newsletter for Wednesday, January 30, 2019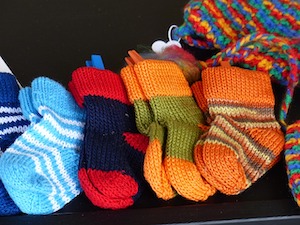 Maru Mori brought me
a pair
of socks
which she knitted herself
with her sheepherder's hands,
two socks as soft
as rabbits.
–Pablo Neruda (1904–73)
The 2019 Old Farmer's Almanac Garden Guide - Online Edition
JUST RELEASED: NEW 2019 EDITION
Enjoy instant access—from your tablet or computer! 
A special website makes reading our Online Edition as easy as flipping the pages of a book. Features enlargeable type, zoom, search, printing pages, or saving as a PDF file to your device. It's the Almanac Garden Guide always at your fingertips. Plus, pay no shipping charges either!  
Why February is Cold
Why February Is Cold
Our coldest months are December, January, and February in North America. Someone recently asked me how it can be colder in winter even though Earth is closer to the Sun than it is in summer.
Handcare Caddies
A silver-toned caddy holding luxurious foaming hand soap and rich lotion together in one place. Very elegant, very convenient. Choose from different luxurious scents!
Monthly Moon Names
Full Moon Names
Historically, names for the full or new Moons were used to track the seasons. Think of them as "nicknames" for the Moon! See Moon names for each month of the year and their meanings.
Tick Removal Tool
The best tick remover is the one that is easy to carry and always with you! This safe tick removal tool attaches to key chains, leashes, and backpacks. Made in the USA from high-strength aluminum that won't break or bend. Sold as 3-pack for spares and sharing.