Groundhog prediction for spring, dip recipes, frozen pipes
This is an archived issue of our Almanac.com Companion email newsletter.
Daily Newsletter for Thursday, January 31, 2019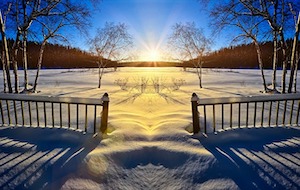 Little darling,
I feel that ice is slowly melting
Little darling, it seems like years since it's been clear
Here comes the sun
Here comes the sun, and I say
It's all right.
–The Beatles (released 1969)
Thursday, January 31, 2019
31st day of the year
Anthony LaPaglia (actor) was born on this day in 1959.
Horace Hagedorn (founder of Miracle-Gro plant food) died on this day in 2005.