Groundhog prediction for spring, dip recipes, frozen pipes
This is an archived issue of our Almanac.com Companion email newsletter.
Daily Newsletter for Thursday, January 31, 2019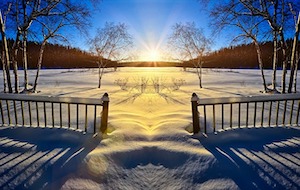 Little darling,
I feel that ice is slowly melting
Little darling, it seems like years since it's been clear
Here comes the sun
Here comes the sun, and I say
It's all right.
–The Beatles (released 1969)
Groundhog Weather Predictions!
Groundhog Day Forecast? The Almanac Asks Punxsutawney Phil
Groundhog Day weather forecasts are always a fun pastime. The Almanac predicts either six more weeks of winter—or, um, six more weeks until spring? Just kidding. We know the most well-known groundhog prognosticator is Punxsutawney Phil. We can only imagine the conversation between The Old Farmer and Phil …
2019 is the Year of the Dahlia!
Dahlias
Grow dahlias for gorgeous, colorful flowers that bloom from midsummer through autumn, when many plants are past their best! The tubers are planted in the ground in late spring. In colder zones, you do need to dig up and store the tubers in the fall if you wish to grow them as perennials (or, treat as annuals). Here's how to plant, grow, and store dahlias.
The 2019 Old Farmer's Almanac Garden Guide - Online Edition
JUST RELEASED: NEW 2019 EDITION Enjoy instant access—from your tablet or computer!  A special website makes reading our Online Edition as easy as flipping the pages of a book. Features enlargeable type, zoom, search, printing pages, or saving as a PDF file to your device. It's the Almanac Garden Guide always at your fingertips. Plus, pay no shipping charges either!  
SUPER Dip Recipes
Time for Super Bowl Dip Recipes!
Are you ready to break out some delicious Super Bowl dip recipes for the big day? Scoop up classic guacamole, spicy buffalo chicken dip, delicious spinach dip, and more!
Handcare Caddies
A silver-toned caddy holding luxurious foaming hand soap and rich lotion together in one place. Very elegant, very convenient. Choose from different luxurious scents!
Winter Driving and Car Kit
Winter Car Emergency Kit
Keep the following supplies in your winter car kit. Emergencies can happen to anyone. Prepare for the worst-case scenario, especially in wintertime!
All-Natural, DEET-Free Insect Repellent
The Old Farmer's Almanac name is on the bottle. If it doesn't effectively repel ticks, mosquitoes, blackflies, chiggers, and other biting bugs we will give you your money back!