Year of the Pig!, birds at night, veggie stew
This is an archived issue of our Almanac.com Companion email newsletter.
Daily Newsletter for Monday, February 4, 2019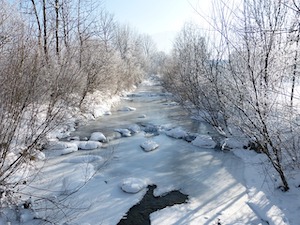 Deep down within the frozen brook
I hear a murmur faint and sweet,
And lo! The ice breaks as I look,
And living waters touch my feet.
–Jane Goodwin Austin (1831–94)
Year of the Pig!
Chinese New Year 2020: The Year of the Rat
The Chinese New Year—also referred to as the Spring Festival and the Lunar New Year globally—lands on Saturday, January 25, 2020. Why does the Chinese New Year start at a different time than ours? How is this important holiday celebrated? What does the Year...
Does the Moon Affect Moods?
Can a Full Moon Affect Your Mood?
Can the Moon affect your mood? Does it make people crazy? Science doesn't have proof, but could centuries of folklore be wrong? Unless you plan to ask a werewolf (which we don't recommend), it might be time to explore the myths and reality.
The 2019 Old Farmer's Almanac Garden Guide - Online Edition
JUST RELEASED: NEW 2019 EDITION
Enjoy instant access—from your tablet or computer! 
A special website makes reading our Online Edition as easy as flipping the pages of a book. Features enlargeable type, zoom, search, printing pages, or saving as a PDF file to your device. It's the Almanac Garden Guide always at your fingertips. Plus, pay no shipping charges either!  
Handcare Caddies
A silver-toned caddy holding luxurious foaming hand soap and rich lotion together in one place. Very elegant, very convenient. Choose from different luxurious scents!
All-Natural, DEET-Free Insect Repellent
The Old Farmer's Almanac name is on the bottle. If it doesn't effectively repel ticks, mosquitoes, blackflies, chiggers, and other biting bugs we will give you your money back!