Lucky bamboo, brittle nails, best days, speedy chicken stir-fry
This is an archived issue of our Almanac.com Companion email newsletter.
Daily Newsletter for Tuesday, February 5, 2019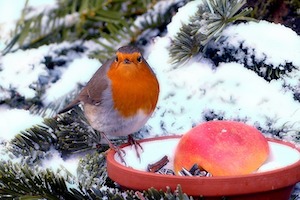 Poor robin redbreast,
Look where he comes;
Let him in to feel your fire,
And toss him of your crumbs.
–Christina G. Rossetti (1830–94)
Growing Lucky Bamboo
How to Grow Lucky Bamboo
For Chinese New Year (or any other time of year), an auspicious gift is a lucky bamboo plant. Learn the meaning behind lucky bamboo and get some helpful growing tips!
Why Raise a Pig?
The Perks of Pigs: Fun Facts About Pigs
Agriculture itself could scarcely have evolved eons ago without the recycling abilities of the pig. Yet, fewer farmers have a single pig today. Let's extoll the virtues of the pig!
Crossbody Purses for Cell Phones by Chala
Top-seller! Available in different nature-inspired designs! Perfect size for carrying most cell phones, cash, ID, and a few credit cards. Very nicely made and features adjustable straps.
Large Wooden Matchboxes
Choose from many different bold designs! Each matchbox is about the size of a deck of playing cards and contains 50 wooden matches with color-coordinated tips.
Best Days Calendar
Best Days Timetable
With the Almanac's Best Days timetable, find out when to plant vegetables, start a diet to lose weight, cut hair to increase growth, quit smoking, and more!