Growing broccoli, brightest Moon of 2019, hydroponics
This is an archived issue of our Almanac.com Companion email newsletter.
Daily Newsletter for Friday, February 15, 2019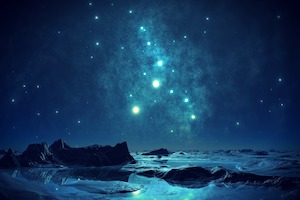 All heaven and earth are still—though not in sleep,
But breathless, as we go when feeling most;
And silent, as we stand in thoughts too deep:—
All heaven and earth are still.
–George Gordon, Lord Byron (1788–1824)
Friday, February 15, 2019
46th day of the year
Chris Farley (actor) was born on this day in 1964.
Jan Miner (actress who gained fame as Madge, the manicurist in Palmolive television ads) died on this day in 2004.
Zodiac for Gardeners
Zodiac for Gardeners
Here are zodiac profiles for gardeners based on the signs.
Growing Broccoli
Growing Broccoli
Broccoli is another plant that can be put in the ground before all of the frost is done.
Try the Weed Spinner!
All you need is a drill and weeds and their roots are gone in one quick spin! The action is fun, fast, and satisfying! What's more, there's no kneeling, bending, or getting your hands dirty. Expect your neighbors to get curious and want to try the Weed Spinner, too. This back-saving drill bit was invented by retired school teacher Vern Ader and we thank him. 
Grow Veggies Without Soil
What is Hydroponics? | The Basics of Hydroponic Systems
Did you know that you can grow plants without soil? Learn the basics of hydroponic gardening—which is especially useful if you live in an apartment with access to a balcony, terrace, rooftop, or even a sunny window. Here's an overview of hydroponics and the many types of hydroponic systems out there today.
Farmers' Market Cotton Tote Bag
Buy 2 or more and get $3.00 off each bag! This sturdy cotton canvas bag features The Old Farmer's Almanac 1792 logo on one side and the message "Support Your Local Farmers" on the other. Made in the USA. 
Nearest Moon of the Year
Full Moon for February 2020
Got your snow shovels ready? February's Full Snow Moon rises on the night of February 8 and peaks in the early hours of February 9. Why is it called the Full Snow Moon? Find out in our February Moon Guide!
Slow Cooker Onion Soup
Slow Cooker French Onion Soup
Our Slow Cooker Fresh Onion Soup is the reason that slow cookers were invented! It's a no-fuss, hearty soup topped with French bread and grated Parmesan cheese.  Mmmm!
Large Wooden Matches
Choose from many different bold designs! Each matchbox is about the size of a deck of playing cards and contains 50 wooden matches with color-coordinated tips.
10 Uses for Coffee
10 New Uses for Coffee!
I'll admit to a lifelong coffee addiction. I drink it strong, black, and unsweetened. Fortunately, coffee grounds and leftover coffee has so many household uses—and may offer health and beauty benefits, too!