Winter pruning, growing more in space you have, no-lie cherry pie
This is an archived issue of our Almanac.com Companion email newsletter.
Daily Newsletter for Friday, February 22, 2019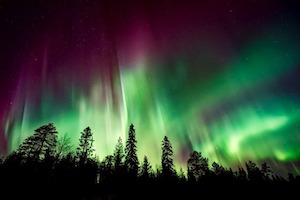 Behold within the north a crimson light
That reaches to the heavens' farthest height.
–Clinton Scollard (1860–1932)
Winter Pruning Guide
Winter Pruning Guide for Trees and Shrubs
Late winter or early spring is the best time time to prune most shrubs and trees—but not all! See our list of which trees and shrubs to prune, and get some general pruning tips for the season.
Growing More in Less Space
Growing More in the Space You Have
Most gardeners want to grow more in the space they have. A more productive garden gives a bigger harvest with less time spent weeding.
Aurora Borealis
What Are the Northern Lights?
Along with the colorful leaves that fall ushers in, the night sky has its own colorful display near the equinox. The northern lights—one of nature's most dazzling events—are extra-visible. Shimmering curtains of color waft in the night air. Huge arcs and pillars of color dance and...
No-Lie Cherry Pie
No-Lie Cherry Pie
We know it's just a myth that George Washington confessed to chopping down a cherry tree. But the story inspired our delicious No-Lie Cherry Pie recipe!
Red Mercury Lantern
Buy 2 or more and get $2.00 off each while supplies last. Includes 10 lights and a 6-hour timer. Takes 2 AA batteries.
Leg Cramps at Night
Leg Cramps at Night: Causes and Remedies
Eeow! Startled from a deep sleep, you suddenly come to with a shriek, as your calf, thigh, or maybe the arch of your foot contracts in violent pain. Commonly called a "Charley horse," this is a common and painful occurrence. Discover what causes leg cramps at night, as well as how you can...