Growing peanuts, companion planting, St. Pat's recipe ideas
This is an archived issue of our Almanac.com Companion email newsletter.
Daily Newsletter for Monday, March 11, 2019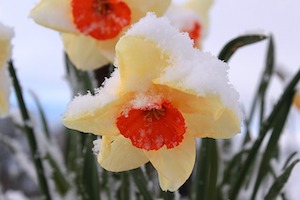 Daffodils, that come before the swallow dares, and take the winds of March with beauty.
–Williams Shakespeare (1564–1616)
Monday, March 11, 2019
70th day of the year
Lisa Loeb (musician) was born on this day in 1968.
Frank Neuhauser (in 1925 won the first U.S. national spelling bee with the word "gladiolus") died on this day in 2011.