Growing peanuts, companion planting, St. Pat's recipe ideas
This is an archived issue of our Almanac.com Companion email newsletter.
Daily Newsletter for Monday, March 11, 2019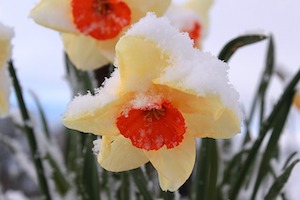 Daffodils, that come before the swallow dares, and take the winds of March with beauty.
–Williams Shakespeare (1564–1616)
Companion Planting
Companion Planting Garden Layouts
This year, don't just plan a vegetable garden—plan a "companion" vegetable garden which takes into account which vegetables and flowers grow better near each other (and which do not!). To better understand, take a look at these sample companion garden plan layouts from our own Almanac readers!
Growing Peanuts
How to Grow Your Own Peanuts
Try growing peanuts in your garden! Often thought of as just a snack to be munched on, peanuts are actually a healthful and nutritious food.
When Our Seasons Begin
When Do the Seasons Start in 2020?
When do all of the four seasons—fall, winter, spring, and summer—start and end? Find your equinox and solstice dates for 2020 and 2021—plus, learn the difference between an astronomical season and a meteorological season.
Colorful Kitchen Dish Towels
There's nothing shy or demure about our kitchen towels! The bold prints demand attention and deserve it. They're made of woven natural cotton, so they're as practical as they are impressive. 
Recipe Ideas for St. Pat's
Best St. Patrick's Day Recipes
A selection of our favorite St. Patrick's Day recipes—including soda bread, corned beef and cabbage, hearty Irish stew, and colcannon—many of which come from our lovely Irish-American readers!
Crossbody Purses for Cell Phones by Chala
Top-seller! Available in different nature-inspired designs! Perfect size for carrying most cell phones, cash, ID, and a few credit cards. Very nicely made and features adjustable straps.
Are you a Pisces Baby?
Pisces Zodiac Sign
Happy Birthday, Pisces! The twelfth astrological sign in the Zodiac, Pisces is the sign for folks who are born between February 19 and March 20. The astrological symbol shows two fish swimming in opposite directions, representing the duality within the Piscean nature.
All-Natural, DEET-Free Insect Repellent
The Old Farmer's Almanac name is on the bottle. If it doesn't effectively repel ticks, mosquitoes, blackflies, chiggers, and other biting bugs we will give you your money back!