Transplanting seedlings, sunflowers, bug hotels
This is an archived issue of our Almanac.com Companion email newsletter.
Daily Newsletter for Wednesday, March 27, 2019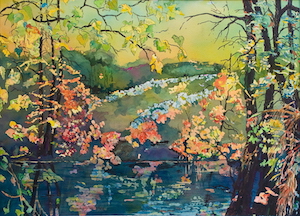 The beautiful spring came, and when Nature resumes her loveliness, the human soul is apt to revive also.
–Harriet Ann Jacobs (1813–97)
Plant Sunflowers Now
Sunflowers
Sunflowers say "summer" like no other plant. When do we plant these North American natives? How long do sunflowers take to grow? When do sunflowers bloom? We'll answer these questions in our Sunflower Growing Guide—covering everything from planting to cutting flowers to harvesting seeds!
Transplanting Seedlings
Tips for Transplanting Seedlings
Are you ready for the first big hurdle of the gardening season? Here's how to make sure that your seedlings transplant successfully into the garden.
Is Asparagus Good for You?
Asparagus: Health Benefits
Yep, asparagus is good for you, so even if you don't grow it yourself, grab a big bunch from a nearby farmers' market when it's in season locally. Here's how asparagus benefits you—and the answer to our most common question about asparagus's smell!
Sun Face Kinetic Wind Stake
Bring dramatic excitement to your garden with this extra-large kinetic wind stake featuring a 32-inch-wide Sun fan. Beautifully hand-painted metal Sun rays dazzle as the double-blade design spins in opposite directions, creating a mesmerizing effect. Video of the wind stake in action is available.
Bug Hotels
Build a Bug Hotel
Not all insects should be considered pests. Some insects are crucial to the success of fruits and vegetables.
Tick Removal Tool
The best tick remover is the one that is easy to carry and always with you! This safe tick removal tool attaches to key chains, leashes, and backpacks. Made in the USA from high-strength aluminum that won't break or bend. Sold as 3-pack for spares and sharing.