Growing Swiss chard, spring weather, braised chicken
This is an archived issue of our Almanac.com Companion email newsletter.
Daily Newsletter for Thursday, April 11, 2019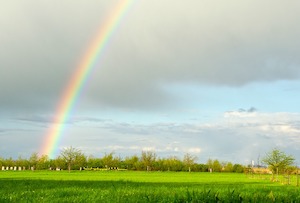 Gladness is born of the April weather,
And the heart is as light as a wind-tossed feather.
Who could be sad on a day like this?
The care that vexed us no longer is.
–Eben Eugene Rexford (1848–1916)
2019 Spring Weather
2019 Spring Weather Forecast (Update)
Spring is well underway, but with the recent snow and cold temperatures, it may not feel that way for a large part of the country. So what's in store for the rest of the season? Rain, shine, or—dare we say it—even more snow? 
SPONSORED
Fresh Garden Salad
Summer time is the right time for a refreshing vine ripe tomato, cucumber and onion salad. Simple and quick to make, using your garden vegetables by adding your favorite seasonings and vinegar. Tickle your taste buds with this ripe produce.
Growing Swiss Chard
Swiss Chard
Swiss chard—or simply "chard"—is a member of the beet family that does well in both cool and warm temperatures. Here's how to grow Swiss chard in your garden!
Growing Herbs in Containers
How to Grow Herbs in Containers
Learn how to grow herbs in containers—and which herbs grow best in pots. Grow several different types together and you'll enjoy fresh pickings time and again. A herb planter looks gorgeous and makes a unique, personal gift for your gardening or cooking-obsessed loved ones.
Ferns, Folklore, Fiddleheads
Ferns, Folklore, and Fiddleheads
It's time for fiddlehead season again! Harvesting the young tips of the ostrich fern is a May tradition that has its roots in Native American times. Discover fiddleheads and the ancient family of ferns—which lived BEFORE dinosaurs walked the Earth! Discover the fascinating world of ferns, their healing powers, and more about fiddleheadin'.
All-Natural, DEET-Free Insect Repellent
The Old Farmer's Almanac name is on the bottle. If it doesn't effectively repel ticks, mosquitoes, blackflies, chiggers, and other biting bugs we will give you your money back!