Bee houses for natives, clover or shamrock?, Tax Day humor
This is an archived issue of our Almanac.com Companion email newsletter.
Daily Newsletter for Monday, April 15, 2019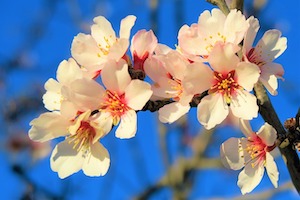 Blossom of the almond trees,
April's gift to April's bees,
Birthday ornament of spring,
Flora's fairest daughterling.
–Sir Edwin Arnold (1832–1904)
Clover Vs. Shamrock
Clover, Shamrocks, and Oxalis: What's the Difference?
Many of us remember being kids looking for the "four-leaf clover." That brings us to today's garden musings. What is the difference between clover, shamrocks, oxalis, and the mysterious four-leaf clover? Which plant is used in the lawn and garden, and which is a houseplant? Which is considered lucky? We'll untangle the mysterious world of plant names…
Bee Houses for Natives
Bee Houses for Native Solitary Bees
What's the secret to enjoying more blooms and greater harvests? Pollination! To increase the pollination of your garden plants, consider getting a backyard bee house for native solitary bees, such as mason bees and leafcutter bees.
All-Natural, DEET-Free Insect Repellent
The Old Farmer's Almanac name is on the bottle. If it doesn't effectively repel ticks, mosquitoes, blackflies, chiggers, and other biting bugs we will give you your money back!
Easy and Safe Tick Remover Tool (3-Pack)
The best tick remover is the one that is easy to carry and always with you! This safe tick removal tool attaches to key chains, leashes, and backpacks. Made in the USA from high-strength aluminum that won't break or bend. 
Dyeing Eggs With Food!
How to Dye Easter Eggs Naturally
Try dyeing eggs the old-fashioned way—with spices, food, and plants! It turns out that your own kitchen and nature can provide all you need. It's fun and something different to try. Note: You'll want to dye these eggs at least one day in advance for vivid colors.
Vermont Weather Station
Measures temperature and humidity with an easy-to-read scale. Available in both brass and copper. A handsome and practical addition to your kitchen window.