2019 Easter forecast, why we wake up stiff and achy, three sisters garden
This is an archived issue of our Almanac.com Companion email newsletter.
Daily Newsletter for Wednesday, April 17, 2019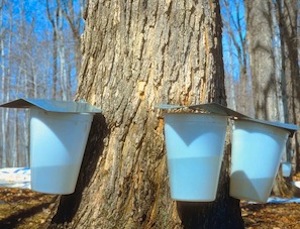 Sugar's sweet, but sap is sappier;
Cold nights make the farmers happier!
–The Old Farmer's Almanac, 1989
Grow the Three Sisters
The Three Sisters: Corn, Beans, and Squash
Did you know that corn, beans, and squash are called the "Three Sisters"? A number of Native American tribes interplanted this trio because they thrive together, much like three inseparable sisters. Here's how to plant your own Three Sisters garden.
Vern Ader's Weed Spinner
Finally, it's fun and easy to weed!  What's more, dandelions don't stand a chance!
The Weed Spinner is an innovative drill-driven weed removal bit that spins out weeds and their roots in one whirling motion.The action is fast and the result is very satisfying! What's more, there's no kneeling, bending, or getting your hands dirty.
Maple Syrup: Good for You!
Making Maple Syrup: Good and Good for You!
What is "real" maple syrup? What makes good maple syrup weather? How are trees tapped? What are maple syrup health benefits? Discover nature's liquid gold!
Why We Wake Up Stiff
Why We Wake Up Stiff and Achy
Do you grunt, groan, and ratchet yourself to a standing position as you get out of bed in the morning? Then, after stretching and moving around for a few minutes, do you feel the achiness and stiffness abate (at least some of it)? There's a reason for this …
All-Natural, DEET-Free Insect Repellent
The Old Farmer's Almanac name is on the bottle. If it doesn't effectively repel ticks, mosquitoes, blackflies, chiggers, and other biting bugs we will give you your money back!