Plants that attract hummingbirds, kitchen cleaning tricks, salad with flowers
This is an archived issue of our Almanac.com Companion email newsletter.
Daily Newsletter for Thursday, April 25, 2019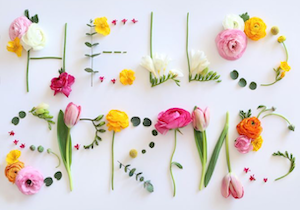 While the bright radiant sun in centre glows,
The earth in annual motion round it goes;
At the same time on its own axis reels,
And gives us change of seasons as it wheels.
–The 1793 Old Farmer's Almanac
Plants for Hummers
Plants that Attract Hummingbirds
Do you love to watch hummingbirds fly around your garden? Learn which types of plants attract hummingbirds and how to create a hummingbird-friendly environment in your garden!
SPONSORED
Best Natural Fertilizer On Earth!
Chicken Soup for the Soil® is 100% toxin free and includes all the elements in the periodic table. Higher quality fruits and vegetables. Will not wash out of soil. Free Shipping + Money Back Guarantee
Plants That Grow in Shade
Plants and Flowers That Grow in Shade
Many gardeners complain that they can't grow any plants in the shade other than hostas. And those are devoured by slugs. Embrace the shade!
Support Your Local Farmers Tote Bag
This sturdy cotton canvas bag features The Old Farmer's Almanac 1792 logo on one side and the message "Support Your Local Farmers" on the other. Made in the USA. 
Mango Dressing
Mango Vinaigrette
Fresh Mango Vinaigrette comes together quickly and brightens up any dish from salad greens to grilled chicken or fish.
Vern Ader's Weed Spinner
Finally, it's fun and easy to weed!  What's more, dandelions don't stand a chance!
The Weed Spinner is an innovative drill-driven weed removal bit that spins out weeds and their roots in one whirling motion.The action is fast and the result is very satisfying! What's more, there's no kneeling, bending, or getting your hands dirty.