Morning, morning glory!, rodents in the house, wild ramps
This is an archived issue of our Almanac.com Companion email newsletter.
Daily Newsletter for Monday, April 29, 2019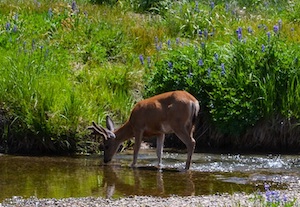 The woods were full of deer;
and running
everywhere
fresh water—
brooks, rundles,
springs and creeks.
–Charlies Reznikoff (1894–1976)
Growing Morning Glory
Morning Glory Vines: Favorite Varieties
Most of my favorite flowering vines are in the plant family Ipomoea. The most common member of this family is the morning glory, though there are about 300 more plants, including the sweet potato, and many of them are twining climbers.
Vern Ader's Weed Spinner
Finally, it's fun and easy to weed!  What's more, dandelions don't stand a chance!
The Weed Spinner is an innovative drill-driven weed removal bit that spins out weeds and their roots in one whirling motion.The action is fast and the result is very satisfying! What's more, there's no kneeling, bending, or getting your hands dirty.
It's Ramp Season!
Wild Ramps Pesto Recipe
Ramp season is here! Ramps are one of the first wild greens to emerge. This springtime native is famous for their restorative qualities after a long winter.And where there are ramps, there's a Wild Ramps Pesto recipe to be made!
Rodents in the House?
How to Get Rid of Rodent Pests in the Home
I've lived in a well-built old house sheathed with cedar shingles for decades, throughout which I've often (but never intentionally) shared it with mice, flying squirrels, sometimes chipmunks, and, occasionally, Norway rats. What to do? Here's advice for identifying, controlling, and preventing in the home.
All-Natural, DEET-Free Insect Repellent
The Old Farmer's Almanac name is on the bottle. If it doesn't effectively repel ticks, mosquitoes, blackflies, chiggers, and other biting bugs we will give you your money back!
New Uses for Old Socks
New Uses for Old Socks, Tights, and Panty Hose
Don't worry—there are actually a lot of uses for the sock who lost its mate! Plus, there are some great DIY gardening hacks for old stockings and panty hose. Find out …