Companion planting with herbs, Blue Moon in May, cleaning tips to reduce allergies
This is an archived issue of our Almanac.com Companion email newsletter.
Daily Newsletter for Monday, May 13, 2019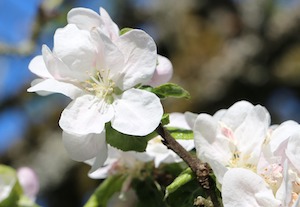 May come up with fiddle-bows,
May come up with blossom,
May come up the same again,
The same again but different.
–Louis MacNeice (1907–63)
Companion Planting With Herbs
Companion Planting With Herbs
Learn about companion planting with herbs! Here are pictures of your most common herbs, as well as the best companion plants for them in the garden. Herbs are also the perfect companions to food in your culinary masterpieces, so we've also listed how each herb is best used in the kitchen!
3 Great Flowering Shrubs
Three Great Flowering Trees and Shrubs for Your Garden
If you are searching for the right flowering tree or shrub to add pizzazz to your landscape, check out these three groups of plants—magnolia, dogwood, and viburnum—and you will not be disappointed.
Vern Ader's Weed Spinner
Finally, it's fun and easy to weed!  What's more, dandelions don't stand a chance!
The Weed Spinner is an innovative drill-driven weed removal bit that spins out weeds and their roots in one whirling motion.The action is fast and the result is very satisfying! What's more, there's no kneeling, bending, or getting your hands dirty.
Herb-Stuffed Pasta
Herb-Stuffed Pasta
Two cheeses and several herbs make this a richly flavored dish.
Cleaning Tips for Allergies
Cleaning Tips to Reduce Allergens
While it's a challenge to truly allergy-proof your home, there are certainly practical cleaning tips to reduce allergies if you address allergen traps. Here's helpful advice.