Elegant irises, beneficial bugs, morning glory muffins
This is an archived issue of our Almanac.com Companion email newsletter.
Daily Newsletter for Monday, May 20, 2019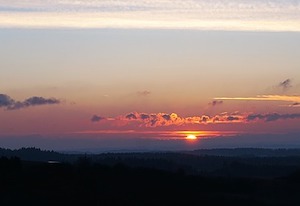 Light and silv'ry cloudlets hover
In the air, as yet scarce warm;
Mild, with glimmer soft tinged over,
Peeps the sun through fragrant balm.
–Johann Wolfgang von Goethe (1749–1832)
Best Cutting Flowers
Growing Flowers for a Cutting Garden
If you're like me and can never have too many flowers, now is the time to create a cutting garden so you can have your flowers and cut them too! Here are my tips—plus, the best flowers to grow for cutting.
Crossbody Purses for Cell Phones by Chala
Top-seller! Available in different nature-inspired designs! Perfect size for carrying most cell phones, cash, ID, and a few credit cards. Very nicely made and features adjustable straps.
Morning Glory Muffins
Morning Glory Muffins
These Morning Glory Muffins are packed with vegetables, fruit, and nuts, creating a delicious breakfast treat or snack.
Large Wooden Matchboxes
Choose from many different bold designs! Each matchbox is about the size of a deck of playing cards and contains 50 wooden matches with color-coordinated tips.
Good Guys in the Garden
Beneficial Insects in the Garden
Here's a short list of great beneficial insects with pictures—and with tips on attracting these good bugs to your garden.
Dandelions don't stand a chance!
Finally, it's fun and easy to weed with Vern Ader's Weed Spinner! The Weed Spinner is an innovative drill-driven weed removal bit that spins out weeds and their roots in one whirling motion.The action is fast and the result is very satisfying! What's more, there's no kneeling, bending, or getting your hands dirty.