Moon and planets meet, wedding weather, growing eggplant, tomato problems
This is an archived issue of our Almanac.com Companion email newsletter.
Daily Newsletter for Tuesday, June 4, 2019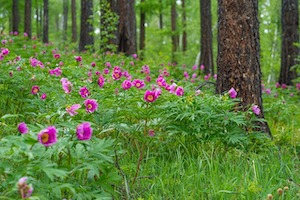 Ah, happy day, refuse to go!
Hang in the heavens forever so!
Forever in midafternoon,
Ah, happy day of happy June!
–Harriet Elizabeth Prescott Spofford (1835–1921)
Going to a Wedding?
Wedding Weather
Wondering what the weather will be like for your wedding day (or any event day)? See our weather prediction tools—plus, learn all about wedding traditions and old-fashioned customs!
SPONSORED
Looking for American-Made Gifts?
Look no more, North Country Wind Bells® has been creating quality made wind bells in the state of Maine since 1975. With 6 collections, 64 melodies, and over 100 personalizing options, you can find that perfect American-made gift.
Moon and Planets Meet Tonight
Tonight, See Saturn Near the Moon in the Night Sky!
In June 2019, the Moon pairs up with three planets, while planets meet other planets! Next up: Tonight, June 18, features a twilight conjunction of Mercury and Mars and, more visibly, a late-night conjunction of the Moon and bright Saturn!
Growing Eggplant
Eggplants
Eggplants—also known as aubergine or brinjal—are warm-weather vegetables that are harvested in mid- to late summer. Eggplant tastes best when harvested young. See more about growing and harvesting these lovely deep purple vegetables—one of our favorites on the grill!
Vern Ader's Weed Spinner
Finally, it's fun and easy to weed!  What's more, dandelions don't stand a chance!
The Weed Spinner is an innovative drill-driven weed removal bit that spins out weeds and their roots in one whirling motion.The action is fast and the result is very satisfying! What's more, there's no kneeling, bending, or getting your hands dirty.
Common Tomato Problems
Troubleshooting Top 10 Tomato Problems
What is wrong with my tomatoes? What are common tomato diseases? Why are the leaves on my tomato plants dying? In the article (with video demo), we discuss the top 10 tomato problems—how to prevent issues now and also how to fix issues affecting tomato plants.
The Almanac Weather Rock
100% accurate weather predictor! If the rock is wet, it's raining. If it's dry and still, just wait a minute—it's a mistake and will change soon.
Picnic Scalloped Potatoes
Picnic Scalloped Potatoes
If you like cheese, potatoes, and ham, you can't go wrong with this recipe for Picnic Scalloped Potatoes. Several simple ingredients result in a ton of great flavor.
Ode to a Cow Almanac Wooden Sign
This poem was originally printed in The 1936 Old Farmer's Almanac. Its inspirational advice is still relevant for today's busy lifestyles.