Dog Days, dog days iced tea, recipes galore!
This is an archived issue of our Almanac.com Companion email newsletter.
Daily Newsletter for Wednesday, July 3, 2019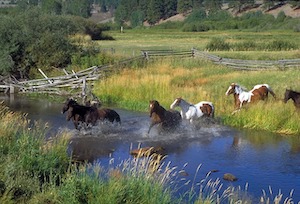 Cool in the very furnace of July
The water-meadows lie;
The green stalks of their grasses and their flowers
They still refresh at fountains never dry.
–John Drinkwater, British poet (1882–1937)
Dog Days of Summer Begin
The Dog Days of Summer
The "Dog Days" of summer last from July 3 to August 11. What are the Dog Days, exactly? The ancient origins of this common phrase might surprise you. Enjoy this article about the meaning behind the Dog Days of summer!
SPONSORED
Looking for American-Made Gifts?
Look no more, North Country Wind Bells® has been creating quality made wind bells in the state of Maine since 1975. With 6 collections, 64 melodies, and over 100 personalizing options, you can find that perfect American-made gift.
4th of July Recipe Ideas
Fourth of July Recipes
Celebrate Independence Day in style with some festive recipes, including Star-Spangled Chicken With Fireworks Salsa—and Star-Spangled Berry Pie for dessert. You'll also find burgers, ribs, our prize-winning fried chicken and patriotic desserts to top off any great meal!
Picnic Food Idea
Picnic Recipes for Sunny Days!
Many of are staying near home so why not pack a picnic! Check out our best picnic food ideas—from potato salads to chicken salads to fun sandwich recipes. Plus, we have summery drinks and yummy picnic desserts including our best brownies.