Dog Days, dog days iced tea, recipes galore!
This is an archived issue of our Almanac.com Companion email newsletter.
Daily Newsletter for Wednesday, July 3, 2019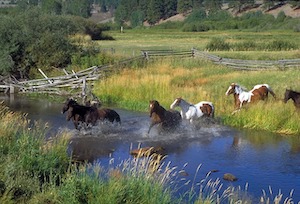 Cool in the very furnace of July
The water-meadows lie;
The green stalks of their grasses and their flowers
They still refresh at fountains never dry.
–John Drinkwater, British poet (1882–1937)
Dog Days of Summer Begin
The Dog Days of Summer
What are the "Dog Days of Summer"—and when are they? The origin of this common phrase might surprise you. Enjoy this page about the meaning and origins of the "Dog Days of Summer."
SPONSORED
Looking for American-Made Gifts?
Look no more, North Country Wind Bells® has been creating quality made wind bells in the state of Maine since 1975. With 6 collections, 64 melodies, and over 100 personalizing options, you can find that perfect American-made gift.
Dog Days Iced Tea
Dog Days Iced Tea
A hot summer day is the best time to whip up a refreshing pitcher of Dog Days Iced Tea.
4th of July Recipe Ideas
Fourth of July Recipes
Celebrate Independence Day (U.S.) with tasty, patriotic dishes. Here are 10 classic 4th of July recipes—including our best fried chicken, BBQ ribs, burgers, drinks, and festive desserts!
Recipes for the Grill
Easy Grilling Recipes—And 10 Tips for Grilling Success
Ready to grill? (Always!) We offer our 10 grilling tips to get the most out of your food maximum taste, as well as 10 of our favorite grilling recipes. We've got grilled flank steak with herbs, juicy burgers, salmon kabobs, corn and vegetables, and even pizza!
Picnic Food Idea
Picnic Recipes for Sunny Days!
Pack a picnic! From potato salads to chicken salads to old-fashioned strawberry lemonade, here's delicious food to bring to your outdoor patio or a picnic in the park—or, pack in a cooler for a long drive!