Picking blueberries, easy fridge pickles, powdery mildew remedies
This is an archived issue of our Almanac.com Companion email newsletter.
Daily Newsletter for Friday, July 19, 2019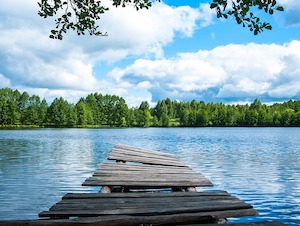 O summer day, surpassing fair,
With hints of heaven in earth and air.
–Eben Eugene Rexford (1848–1916)
Picking Blueberries
Blueberries
Did you know that the modern blueberry is a 20th-century invention? Before the 1900s, the only way to enjoy these North American natives was to find them in the wild. Then, scientists started to unlock the secrets of cultivating blueberries—and we're glad they did! Here's how to grow blueberries in your garden.
Powdery Mildew Remedies
Powdery Mildew Remedies for Plants
One unwelcome visitor to my garden at this time of year is powdery mildew. Here's how to control this plant disease with natural remedies, including a homemade baking soda spray treatment.
How Regular Forecasting Works
How Conventional Weather Forecasts Are Made
How do regular meteorologists forecast the weather? In this two-part series, we will compare conventional practices to The Old Farmer's Almanac methodology. It's not the data that we collect; it's how we use it! Let's start with Part I: Conventional Weather Forecasting.
Easy Fridge Pickles
How To Make Refrigerator Pickles
Ready for quick pickles? Making refrigerator pickles is so easy—no special canning equipment needed. Plus, unlike store-bought pickles, these scrumptious, crunchy homemade pickles are low in sodium. Here's the recipe—plus a video demonstration if you need it. 
When the President Disappeared
When the President Disappeared for 6 Days
In 1893, during his second term as president, Grover Cleveland mysteriously disappeared from the public's eye for nearly a week. What happened? Here's the story…