Earwigs!, better-tasting veggies, lavender for health
This is an archived issue of our Almanac.com Companion email newsletter.
Daily Newsletter for Monday, July 22, 2019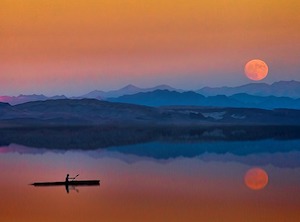 Rais'd are the dripping oars—
Silent the boat: the lake,
Lovely and soft as a dream,
Swims in the sheen of the moon.
–Matthew Arnold (1822–88)
2020 Old Farmer's Almanac Online Edition
Detailed weather forecasts for the entire U.S., gardening and growing, food and recipes, astronomy, tides, home remedies, trends, handy tips, history, plus lots of humor—what's not to like?
A special website makes reading our Online Edition as easy as flipping the pages of a book. Features enlargeable type, zoom, search, printing pages, or saving as a PDF file to your device. It's the Almanac always at your fingertips. Plus, pay no shipping charges either!  
Recipes From the Garden
Creating a Recipe from the Garden
My sister and I both love to cook. We aim for dishes that are nutritious, cheap, quick, and delicious. But our cooking resembles that of our great grandmothers on the farm, whose recipes called for a lump of this, a pinch of that, and a few handfuls of whatever's available from the garden or the cupboard. If you're up for this approach, here are some pointers for creating recipes from your garden—plus an "anytime salad" and flavorful dressing to try!
Lavender for Health
Lavender for Health and Home
Lavender is more than just a pretty plant. This fragrant perennial has been revered throughout the ages for its ability to breathe a sense of clarity and calm into every cupboard, room or beauty product in which it dwells. It has long been used as a remedy for a range of ailments from insomnia and anxiety to depression and fatigue.