Black Moon tonight, growing basil, canning and preserving
This is an archived issue of our Almanac.com Companion email newsletter.
Daily Newsletter for Wednesday, July 31, 2019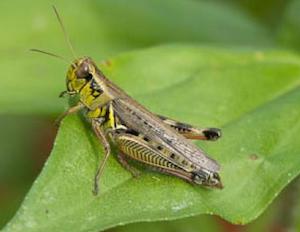 The Poetry of earth is never dead:
When all the birds are faint with the hot sun,
And hide in cooling trees, a voice will run
From hedge to hedge about the new-mown mead;
That is the Grasshopper's—he takes the lead
In summer luxury,—he has never done
With his delights; for when tired out with fun
He rests at ease beneath some pleasant weed.
–John Keats (1975–1821)
"Black Moon" Tonight
What is a Black Moon?
Much media hype surrounds Moon names, such as "Blood Moon" and "Blue Moon," but have you ever heard of a "Black Moon"? This year, there's a Black Moon on July 31. Here's an explanation of this ominous-sounding name.
Growing Basil
Basil
Basil is a warm-weather, fragrant herb that tastes great in many dishes—including the beloved homemade pesto! Plant seeds or transplants after all danger of frost has passed and soil is warm, and it will yield an abundant harvest within weeks. Keep harvesting the leaves to keep the plant going strong.
2020 Old Farmer's Almanac Online Edition
Detailed weather forecasts for the entire U.S., gardening and growing, food and recipes, astronomy, tides, home remedies, trends, handy tips, history, plus lots of humor—what's not to like?
A special website makes reading our Online Edition as easy as flipping the pages of a book. Features enlargeable type, zoom, search, printing pages, or saving as a PDF file to your device. It's the Almanac always at your fingertips. Plus, pay no shipping charges either!  
Canning and Preserving
Introduction to Canning: What Is Canning?
Home canning is experiencing a resurgence of interest for all sorts of reasons. Imagine the shelves of your pantry stocked with homemade pickles, tomato sauce, and jams. Whether you are blessed with an overabundance from your garden or want to indulge in the art of "putting by" with peak produce from your farmers' market, canning captures the best flavors for year-round enjoyment! Here's an overview on how to can!
5 Fast-Growing Veggies
5 Fast-Growing Vegetables to Try
Here are five super-speedy vegetables for a harvest in just a few short weeks! Not only will growing a few edibles at home reduce trips to the grocery store, but also you'll also enjoy better-tasting, fresher food—and the tonic of the plants and the outdoors!  (Note: Full article text included with video demo.)