Peaches, raising bees, harvest guide, blackberry jam
This is an archived issue of our Almanac.com Companion email newsletter.
Daily Newsletter for Friday, August 16, 2019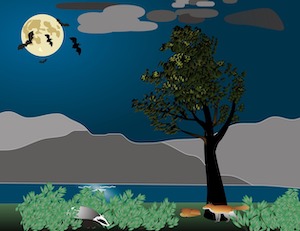 I hear the red fox barking
On the moonlit hill,
And bullfrogs by the river
Where the reeds stand still.
–Benjamin Rice (1903–78)
Harvest Guide: When to Pick
When to Harvest Vegetables and Fruit
How do you know when to harvest vegetables, fruit and herbs? Here's expert advice on how to pick vegetables and fruit at the peak of flavor. For example, zucchini is harvested when 6 to 8 inches long. Pick early and pick often! See our entire list of common crops and the harvesting criteria for judging whether your vegetables are ready for picking. 
Vern Ader's Weed Spinner
Finally, it's fun and easy to weed!  What's more, dandelions don't stand a chance!
The Weed Spinner is an innovative drill-driven weed removal bit that spins out weeds and their roots in one whirling motion.The action is fast and the result is very satisfying! What's more, there's no kneeling, bending, or getting your hands dirty.
Easy Blackberry Jam
Blackberry Jam Without Pectin
This super-easy Blackberry Jam recipe has so much flavor and it's not too sweet! Plus, no special equipment or ingredients are necessary for our no-fuss jam.
The Almanac Weather Rock
100% accurate weather predictor! If the rock is wet, it's raining. If it's dry and still, just wait a minute—it's a mistake and will change soon.
DIY Shampoo (Curious?)
How to Make Homemade Shampoo (Only Two Ingredients)
One day early last spring, I counted the ingredients of my shampoos. Each contained at least 20 ingredients—many of them unpronounceable—and three or four of them had suspected toxins. Two contained fragrances that made me sneeze. On that day, I decided to try an easy two-ingredient homemade shampoo that I'd read about for years but that had always seemed too hokey. I've never looked back.