Labor Day, super burgers, woolly worms, earthshine
This is an archived issue of our Almanac.com Companion email newsletter.
Daily Newsletter for Monday, September 2, 2019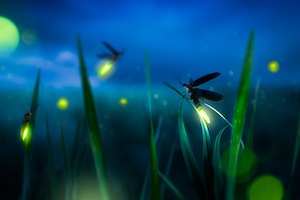 Look! Look down in the garden how
The firefly lights are flitting now!
A million tiny sparks I know
Flash through the pinks and golden-glow.
–Evaleen Stein (1863–1923)
Meaning of Labor day
When Is Labor Day 2020?
Labor Day falls on Monday, September 7, 2020. Unlike many holidays, Labor Day doesn't have many rituals other than end-of-summer barbecues. So what is Labor Day and why do we celebrate it?
Woolly Worms and Winter
Woolly Bear Caterpillars and Weather Prediction
The woolly bear caterpillar—also called woolly worm or fuzzy worm—has the reputation of being able to forecast the coming winter weather. Whether this is fact or folklore, learn more about this legendary caterpillar and how to "read" the worm!
Support Your Local Farmers Tote Bag
This sturdy cotton canvas bag features The Old Farmer's Almanac 1792 logo on one side and the message "Support Your Local Farmers" on the other. Made in the USA. 
What is Earthshine?
What is Earthshine?
Ever noticed that you can sometimes see the part of the Moon that isn't lit up?  That's earthshine!  Historically, this is called "the new Moon in the old Moon's arms." Learn more about earthshine.
Super Burgers!
Super Summer Burgers
These amazing gourmet burgers will have your mouth watering with delicious toppings, including applewood bacon.
Summer Salsa Salad
Summer Salsa Salad
This salsa salad earned first place in the 2011 Garden-Fresh Recipe Contest. The editors loved it! Serve as a side or serve with tortilla chips.