See the Moon and Jupiter, 10 fall cleanup tips, zoom into the Milky Way
This is an archived issue of our Almanac.com Companion email newsletter.
Daily Newsletter for Thursday, September 5, 2019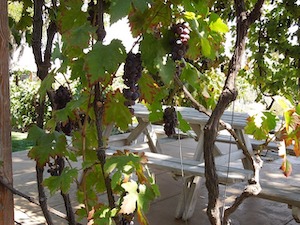 Give me the splendid silent sun with all his beams full-dazzling,
Give me juicy autumnal fruit ripe and red from the orchard,
Give me a field where the unmowed grass grows,
Give me an arbor, give me the trellised grape.
–Walt Whitman (1919–92)
Moon and Jupiter Tonight
Night Sky for September 2019
Welcome to the Sky Watch for September 2019. Jupiter and Saturn can be found in the sky at nightfall and stay out until late night. Here are highlights of the night sky!
Tea Towel Set
Set of 3 with farm animal designs. Made of absorbent cotton. Measures 27" x 17".
10 Fall Cleanup Tips
10 Fall Cleanup Tips for a Better Spring Garden
When it comes to fall yard and garden cleanup, we have evolved our thinking. It's not necessary to hack everything down, but that doesn't mean do nothing. Let's clean up our yards the right way.
Canned Tomato Sauce
How to Can Tomato Sauce: Recipe and Tips
Have you ever canned tomato sauce? This super-basic canned (jarred) tomato sauce contains only tomatoes—with a little lemon juice or acid for safety. We seal the jars in a boiling water bath. No special "canner" needed. Get ready to use up all those end-of-summer tomatoes!