When is the Harvest Moon?, growing sweet potatoes, crunchy dill pickles
This is an archived issue of our Almanac.com Companion email newsletter.
Daily Newsletter for Monday, September 9, 2019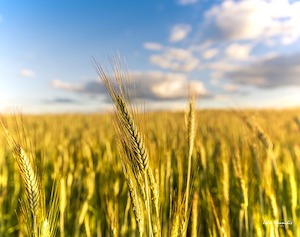 Where long the shadows of the wind had rolled,
Green wheat was yielding to the change assigned;
And as by some vast magic undivined
The world was turning slowly into gold.
​–Edwin Arlington Robinson (1869​–1935)
When is the Harvest Moon?
Full Moon for September 2020
The full Moon for September 2020 is the Full Corn Moon. (This year the Harvest Moon does NOT fall in September.) See what the Corn Moon means—plus, Moon phase dates, Best Days by the Moon, folklore, and more!
Fall Forecast: Updated!
2019 Fall Weather Forecast
Our 2019 Fall Forecast is updated to cover both the first half of autumn as well as the second half, compliments of the just-released Old Farmer's Almanac. We predict it will cool down for much of North America but not for everyone. Take a peek at the fall forecast.
Sweet Potatoes
Sweet Potatoes
Are you growing sweet potatoes? With their deep orange flesh, these edible roots have a naturally-sweet flavor and are a top source of beta-carotene. Thriving in warm soil, unlike regular potatoes, sweet potatoes will be ready to harvest just as the ends of the vines begin to turn yellow, or just before frost. Perfect timing for autumn foods and the holiday table!
The Importance of Snakes
Garter Snakes: The Gardener's Friend
Garter snakes are a gardener's friend! A benign snake to humans, they eat all the pests that wreak havoc in your garden. Learn more about the shy, but helpful gardening helper who just wants to live peacefully in harmony with you—and eat your slugs!
2020 Old Farmer's Almanac Online Edition
Detailed weather forecasts for the entire U.S., gardening and growing, food and recipes, astronomy, tides, home remedies, trends, handy tips, history, plus lots of humor—what's not to like?
A special website makes reading our Online Edition as easy as flipping the pages of a book. Features enlargeable type, zoom, search, printing pages, or saving as a PDF file to your device. It's the Almanac always at your fingertips. Plus, pay no shipping charges either!  
Crunchy Dill Pickles
Crunchy Dill Pickles
Got dill? Cucumbers? This Crunchy Dill Pickle Recipe is super-easy and results in delicious, crisp pickles that go great with anything.