When is the Harvest Moon?, growing sweet potatoes, crunchy dill pickles
This is an archived issue of our Almanac.com Companion email newsletter.
Daily Newsletter for Monday, September 9, 2019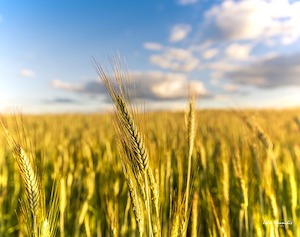 Where long the shadows of the wind had rolled,
Green wheat was yielding to the change assigned;
And as by some vast magic undivined
The world was turning slowly into gold.
​–Edwin Arlington Robinson (1869​–1935)
When is the Harvest Moon?
Full Moon for September 2020
The full Moon for September 2020 is the Full Corn Moon. (This year the Harvest Moon does NOT fall in September.) See what the Corn Moon means—plus, Moon phase dates, Best Days by the Moon, folklore, and more!
Fall Forecast: Updated!
2019 Fall Weather Forecast
Our 2019 Fall Forecast is updated to cover both the first half of autumn as well as the second half, compliments of the just-released Old Farmer's Almanac. We predict it will cool down for much of North America but not for everyone. Take a peek at the fall forecast.
Sweet Potatoes
Sweet Potatoes
Sweet potatoes are grown more often in southern regions because they require at least four months of warm temperatures, though there are varieties that will grow in northern gardens, too. They are surprisingly easy to grow and just a few plants can produce a generous harvest. Here's how to plant, grow, and harvest delicious sweet potatoes in your garden.
The Importance of Snakes
Garter Snakes: The Gardener's Friend
I found a snake skin in my garden a few weeks ago. While other people might have been freaked out, it made me happy to know that snakes find my yard a good place to call home. The garter snake is the snake species that North American gardeners will most often encounter—and we should be thankful!
The 2020 Old Farmer's Almanac
Detailed weather forecasts for the entire U.S., gardening and growing, food and recipes, astronomy, tides, home remedies, trends, handy tips, history, plus lots of humor—what's not to like?  
Crunchy Dill Pickles
Crunchy Dill Pickles
This super-easy dill pickle recipe results in delicious, crisp pickles that go great with anything. Perfect for a summer picnic or cookout!