When and how to apply fertilizer!, planting tulips in winter, 2020 food trends
This is an archived issue of our Almanac.com Companion email newsletter.
Daily Newsletter for Sunday, January 12, 2020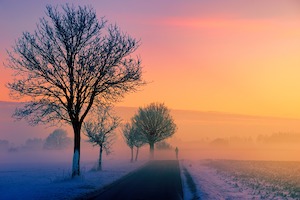 Late lies the wintry sun a-bed,
A frosty, fiery sleepy-head;
Blinks but an hour or two; and then,
A blood-red orange, sets again.
–Robert Louis Stevenson (1850–94)
Sunday, January 12, 2020
12th day of the year
Dominique Wilkins (basketball player) was born on this day in 1960.
Maurice Gibb (with his brothers built the Bee Gees into a disco sensation with hits like "Stayin' Alive" and "More Than a Woman") died on this day in 2003.