Certain holidays are accompanied by traditional ethnic recipes, many of which are for baking bread. Here is a selection of festive breads based upon a cook's jaunt around the calendar—from New Year's Day Bread to Christmas Breads.
America has seasoned her melting pot with a rich legacy of ethnic foods. Holidays are a perfect time to sample baking traditions of Greece, Hungary, Ireland, and Italy—or our own backyard.
New Year's Day: Vasilopitta (Greek New Year Bread)
The Greeks wrap coins in foil and knead them into this bread. They believe anyone who finds a coin will have good luck in the coming year.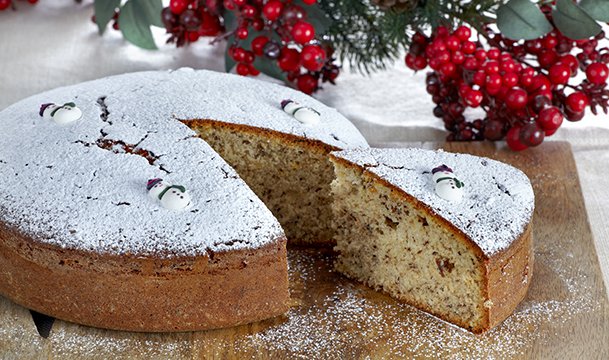 Credit: greece.greekreporter.com
Ingredients:
2 tablespoons dry yeast
¼ cup warm water
½ teaspoon each: cinnamon, anise seeds, orange peel
1 bay leaf
1 ounce ouzo (optional)
½ cup water
½ cup hot milk
¼ pound butter
7 cups unbleached flour, sifted
1 cup sugar
½ teaspoon salt
3 eggs
12 walnut halves
Dissolve yeast in warm water and set aside. Put spices, orange peel, bay leaf, and ouzo in a pot with ½ cup water and bring to a boil. Set aside to steep and cool. Heat milk and remove from heat. Add the butter and allow the milk to cool slightly.
Put the flour, sugar, and salt in a large bowl. Mix in eggs, yeast, milk mixture, and flavored water (remove only the bay leaf). Stir the mixture until all the flour has been absorbed.
Turn the dough out onto a lightly floured board and knead until smooth, about 20 minutes. Place in a buttered bowl, and flip the dough so the top is greased as well. Cover with a towel dampened with hot water. Set in a warm, draft-free place to rise until doubled in bulk, about 4 to 6 hours.
Punch down the dough and knead for about 5 minutes. Shape into one large round loaf and decorate the top with walnut halves. Set aside to rise once more, about 2 hours (uncovered). Bake in a preheated 350ºF oven for 1 hour. Makes 1 loaf.
For an even more fortunate evening, try your bread alongside this delicious New Year's Day punch.
Washington's Birthday: Cherry Walnut Bread
Cherrie are often associated with Washington, thanks to the cherry tree legend. This loaf is best if you wait for a day before serving it!
Ingredients:
1 egg, at room temperature
4 ounces maraschino cherries, cut into quarters
1 cup sugar
2 tablespoons butter, melted
¼ cup each cherry juice, orange juice, and water
2 cups flour
1 tablespoon baking powder
¼ teaspoon baking soda
1 teaspoon salt
1 cup chopped walnuts
In a bowl, beat the egg, add the cherries, and stir in the sugar and melted butter. Pour in the cherry and orange juices and water. Sift the dry ingredients together, then add them to the liquid mixture a spoonful at a time, blending thoroughly. Stir in the chopped nuts.
Pour the batter into a medium (8 ½"x4 ½") loaf pan. Bake in a preheated 350ºF oven for 1 ¼ hours, or until a wooden toothpick inserted in the loaf comes out clean and dry. Let the bread rest for 10 minutes before removing to a wire rack to cool. Makes 1 loaf.
Election Day: Election Day Loaf
New England legend decrees that voters were bought in exchange for this loaf. You may not win an election, but you will get an overwhelming vote of confidence if you serve this bread to the poll watchers gathered in your home on election night.
Ingredients:
2 packages dry yeast
1 ½ cups warm water
2 teaspoons sugar
6 cups unbleached flour, divided
1 teaspoon salt
1 ½ teaspoons cinnamon
¼ teaspoon ground cloves
½ teaspoon nutmeg
¾ cup butter, at room temperature
1 cup sugar
2 eggs, at room temperature
1 ½ cups raisins
¾ cup chopped walnuts or pecans
½ cup chopped citron
1 tablespoon flour
Icing:
1 cup confectioner's sugar
1 ½ tablespoons orange juice
½ teaspoon vanilla
pinch of salt
In a large bowl, dissolve the yeast in warm water. Add 2 teaspoons sugar and 1 ½ cups flour. Beat well, about 150 strokes. Cover the bowl tightly and set in a warm, draft-free place for 30 minutes.
Meanwhile, sift the remaining flour with the salt, cinnamon, cloves, and nutmeg on a piece of wax paper. In a small bowl, cream the butter and sugar. When the yeast batter has only 5 more minutes to rise, add the eggs to the creamed butter. Beat well.
Stir down the yeast batter. Spoon in the butter mixture and blend well. Add the sifted dry ingredients a spoonful at a time, beating after each one until the mixture is smooth. Dredge the raisins, nuts, and citron in the tablespoon of flour and stir into the batter.
Pour the batter into a greased 10-inch tube pan. Make it level by using a spoon dipped in cold water. Cover the pan with wax paper and place in a warm, draft-free spot for about 1 ½ hours or until the batter has risen to twice its height.
Bake the bread in a preheated 375ºF oven for 1 ¼ to 1 ½ hours, or until a wooden toothpick inserted in the center comes out clean. Check halfway through baking time; if the top gets too brown, cover loosely with foil or brown paper. Remove from oven and let cool for 10 minutes before turning the bread onto a wire rack to cool. Spread on the icing while the bread is still warm. Makes 1 loaf.
If you know your voters have an extra sweet tooth, try this Election Day cake recipe instead!
Christmas: Hungarian Christmas Bread
Ingredients:
1 package dry yeast
1 teaspoon sugar
⅔ cup warm water
1 cup butter, at room temperature
¼ cup sugar
½ teaspoon salt
2 tablespoons grated lemon peel
¼ cup nonfat dry milk
2 ½ to 3 ½ cups unbleached flour
1 cup ground poppy seeds
1 cup sugar
½ cup raisins
½ cup milk
Glaze:
1 egg beaten with 1 teaspoon water
In a small cup, dissolve the yeast and sugar in the water. Let stand for a few minutes. Meanwhile, combine the butter, sugar, salt, 1 tablespoon lemon peel, and milk in a large mixing bowl. Then add 2 ½ cups of flour alternately with the yeast mixture. Blend the dough well.
Turn the dough out onto a floured board. Knead for about 10 minutes until the dough is smooth and not sticky. Add more flour as necesssary. Put the dough into a greased bowl, turning so the top is greased. Let rise in a warm, draft-free place until doubled in bulk, about 1 hour.
While the dough is rising, prepare the filling. Combine the poppy seeds, sugar, raisins, milk, and the rest of the lemon peel in the top half of a double boiler. Cook it over hot water until the mixture is of spreading consistency. Stir constantly. It should thicken in about 10 minutes. Remove from heat and cool to room temperature.
Punch the dough down, divide in half, and roll each piece into a long rectangle about ¼ inch thick. Spread the filling on top of each piece, then roll up. Pinch the seams together so the filling can't come out. Place the rolls on a large greased baking sheet and brush with the glaze.
Cover the rolls with wax paper laid across water glasses so the paper doesn't touch the dough. Let rise again for 30 minutes. Apply a second coat of glaze.
Bake the loaves in a preheated 325ºF oven for about an hour. If the top browns too rapidly, cover loosely with aluminum foil. Cool on a wire rack. Makes 2 loaves.
This bread is perfect to serve alongside your favorite Christmas dinner.
St. Patrick's Day: Irish Soda Bread
On St. Patrick's Day, an absolutely classic recipe is Irish Soda Bread.  See our Irish Soda Bread recipe.
Easter Breads
Easter brings many traditional breads made with eggs including this beautiful Italian Easter Bread.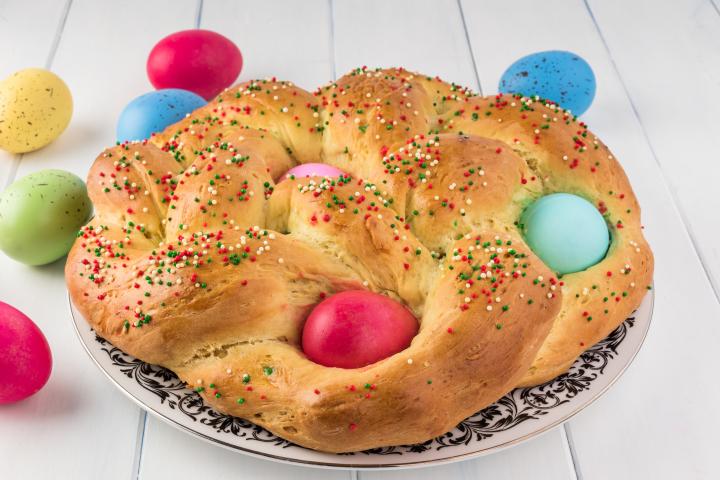 Image: Natalia Wimberley/Shutterstock
Other Easter bread recipe include this delicious Portuguese Sweet Bread and a Greek Easter Bread called Lambropsomo.
Happy baking!