The Full Moon in January 2019 falls on January 20–21. Traditionally, this month's Moon is called the "Wolf Moon." This year brings a total lunar eclipse on Sunday evening. Here is our complete January Moon Guide!
The Total Lunar Eclipse
This year brings a total lunar eclipse visible in the U.S., Canada, South America, Europe, and part of Asia and Africa.
In the media, it's being called a  "Super Blood Wolf Moon" Eclipse. What a name! We'll break it down:
1. What is a total lunar eclipse?
The Moon does not have its own light but shines because its surface reflects the Sun's rays. During a total lunar eclipse, the Earth comes between the Sun and the Moon and blocks any direct sunlight from reaching the Moon. Thus, the Sun casts the Earth's shadow on the Moon's surface.
Just a few hours before the peak of the full Moon, a total lunar eclipse will be visible from all of North, Central, and South America.
The partial eclipse begins at approximately 10:33 P.M. EST (7:33 P.M. PST) on January 20.
The full eclipse begins about an hour later, at 11:41 P.M. EST (8:41 P.M. PST), and will last for approximately one hour. This is the time to look skyward!
See the Eclipse Timeline breaking down how the eclipse will unfold by time zone—and what to watch for!
2. What is a Supermoon?
This is a "supermoon" eclipse because the eclipse occurs when the Moon is near "perigee," its closest point to Earth. Perigee is the term astronomers use. At perigee, the Moon may appear larger and brighter, though it's not as easy to perceive with the naked eye as many people think. See more about supermoons.
3. What is a Blood Moon?
A lunar eclipse occurs when the Moon passes into the shadow of the Earth; this causes the usually bright full Moon to turn a dark, coppery-red. Hence, this eclipsed Moon is being nicknamed the "Blood Moon" in the media. "'Blood Moon' is not a term used in astronomy. It's more of a popular phrase, perhaps because it sounds so dramatic. It simply refers to a 'total lunar eclipse."
Poor weather? LIVE stream
Parts of the U.S. and Canada will have heavy storms on Sunday night. If you have poor weather conditions or simply live on a different side of Earth, the total lunar eclipse will be streamed live from many sources. Here are two free sources:
Virtual Telescope Project
TimeandDate
All Moon Phases for January 2019
The full Moon phase peaks January 21, 2019, at 12:16 A.M. EST, just after midnight (January 20 at 9:16 P.M. for those in PST). This means that the full Moon can be viewed best on the night of January 20. All dates and times below are ET. See the Moon Phase Calendar for your city/state.
New Moon: January 5, 8:28 P.M.

First Quarter: January 14, 1:45 A.M.
Full Moon: January 21, 12:16 A.M.

 

Last Quarter: January 27, 4:10 P.M.
When is the next full Moon? See our Full Moon Dates chart.
Full Wolf Moon
In Native American and early Colonial times, the Full Moon for January was called the Full Wolf Moon because wolves were more often heard at this time. There is no evidence they were howling for hunger though wolves do tend to howl more often during winter months. Wolfs generally howl to define territory, locate pack members, and gather for hunting. Native Americans usually respect, not fear, wolves.
To some Native American tribes, January Moon was known as the Old Moon. To others tribes, this was the Snow Moon, but most applied that name to the next Full Moon, in February.
See all Full Moon names and their meaning.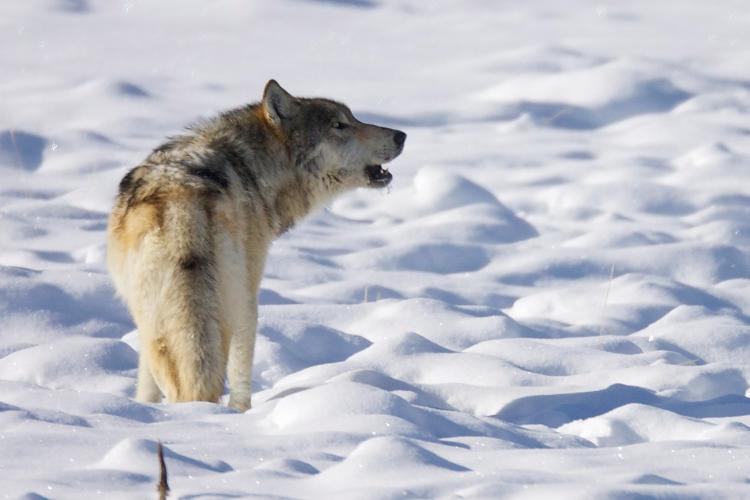 January Full Wolf Moon Video
Each month, we will explain the traditional names of the full Moon along with some fascinating Moon facts. In this video, learn about January's Full Wolf Moon. Click below to watch the video.
Best Days in January 2019
For Planting
Aboveground crops: 10, 11, 19, 20
Belowground crops: 1, 27, 28
For Setting Eggs:
16, 17, 25, 26
For Fishing:
5–21
See all our Best Days for various activities.
Moon Folklore
A bright first Moon promises rain and a bountiful harvest; a red-tinted Moon means a dry year.
A growing Moon and a flowing tide are lucky times to marry.
A halo around the Moon predicts wet or stormy weather. 
Share your thoughts about this month's full Moons below! Learn about the rest of the year's full Moons!