The full Wolf Moon rises on Friday, January 10, 2020, the first of 13 full Moons this year. Some folks will see an eclipse! Learn more about when, where, and how to see the January full Moon!
The Full Moon in January 2020
Look skyward at nightfall of Friday, January 10, 2020, to spot the first full Moon of the year: the shining Full Wolf Moon.
January's full Moon will reach peak fullness—meaning 100% of its face will be illuminated—at 2:21 P.M. EST on the 10th, but it will not appear in the sky until later that day.
For the best view, look for the full Moon rising from the horizon around sunset that day. See your local moonrise times for the best view.
The sunset embers smolder low,
The Moon climbs o'er the hill, 
The peaks have caught the alpenglow,
The robin's song is still.
–John L. Stoddard (1850–1931)
Penumbral Lunar Eclipse on Friday, January 10
On Friday evening, many viewers will see a penumbral lunar eclipse during the full Moon. Specifically, the eclipse will be visible to those in Asia, Australia, Europe and Africa. It will not be visible in most of North America because it starts at 12:06 p.m. ET and ends at 4:14 p.m. ET. But those in Alaska, eastern Maine, and parts of northern and eastern Canada have a shot.
Note: In eastern North America, the Moon will be below the horizon during most of the eclipse, so be sure to check when the Moon rises in your area prior to the eclipse.
A penumbral lunar eclipse is different from a total lunar eclipse; it occurs when the Moon enters into Earth's penumbra (or outer shadow). This causes the moon to look darker than normal. Some people can see it; others might not even notice. It's not a dramatic sight like a total lunar eclipse (when the entire Moon is obscured and turns a deep red color). 
See the next eclipse for 2020!
Moon Phases for January 2020
Below is a calendar of our Moon phases for January 2020. Note: The times are in Eastern Standard time. See our Moon Phase Calendar for times in your city/state.
First Quarter: January 2, 11:45

P.M.

Full Moon: January 10, 2:21

P.M.

Last Quarter: January 17, 7:58

A.M.

New Moon: January 24, 4:42

P.M.
When is the next full Moon? See our Full Moon Dates chart.
Why Is It Called the Full Wolf Moon?
The full Moon names we use in The Old Farmer's Almanac come from a number of sources, including Native American groups, Colonial Americans, or other traditional North American names passed down through generations. (Note that each full Moon name was applied to the entire lunar month in which it occurred.)
The full Moon for January was called the Full Wolf Moon because wolves were more often heard at this time. It was traditionally thought that they howled due to hunger, but there is no evidence for this. However, wolves do tend to howl more often during winter months, and generally howl to define territory, locate pack members, and gather for hunting.
In addition, Native American cultures typically hold a lot of respect—not fear—for wolves, so this month's Moon name should be viewed with that in mind, too.
Other traditional names for the January Moon include: the Cold Moon, the Old Moon, and the Great Spirit Moon. See more Full Moon names and their meanings.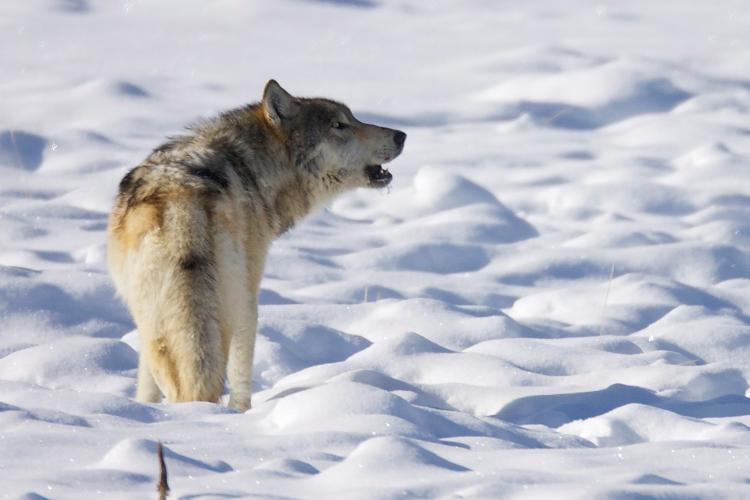 January Full Wolf Moon Video
Each month, we will explain the traditional names of the full Moon along with some fascinating Moon facts. In this video, learn about January's Full Wolf Moon. Click below to watch the video.
Best Days in January 2020
For Planting
Aboveground crops: 5, 6, 9, 27, 28
Belowground crops: 18, 19
For Setting Eggs
6, 7, 16, 17
For Fishing
1–10, 24–31
See all our Best Days for various activities.
Moon Folklore
A bright first Moon promises rain and a bountiful harvest; a red-tinted Moon means a dry year.
A growing Moon and a flowing tide are lucky times to marry.
A halo around the Moon predicts wet or stormy weather. 
Share your thoughts about this month's full Moons below. Tell us if we're missing anything that you would like to know!